South Asia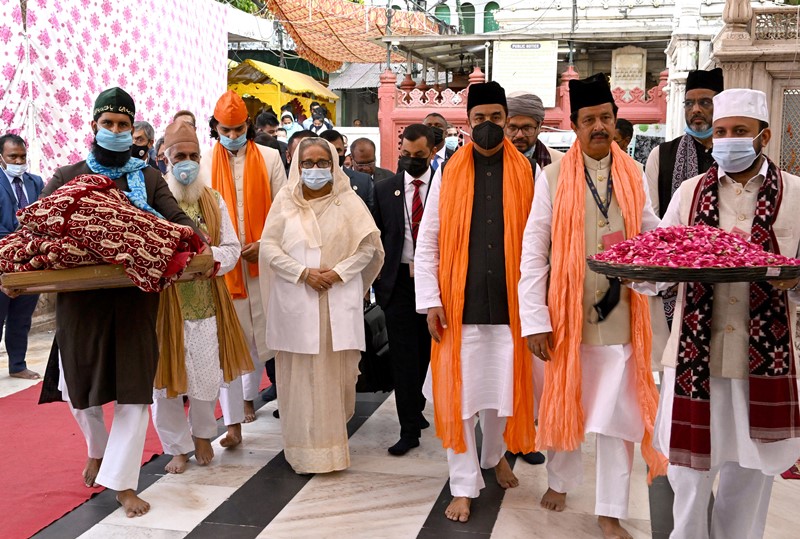 Photo: PID
Sheikh Hasina visits Delhi's Nizamuddin Dargah
Own Correspondent, New Delhi, Sept 6: Prime Minister Sheikh Hasina on Monday visited the much-revered Dargah Nizamuddin Aulia in Delhi on the first day of her four-day visit to India and offered prayers at the almost 700-year-old Dargah, which is the nerve centre of Sufi culture in India.
Prime Minister's Deputy Press Secretary KM Shakhawat Moon told journalists that Sheikh Hasina had offered prayers and munajat, seeking development, prosperity, and welfare of the country, the nation as well as the entire Muslim community.
Sheikh Hasina was reportedly a regular visitor to the dargah during her stay in Delhi from 1975 to 1981 following the assassination of her father Bangabandhu Sheikh Mujibur Rahman.
The Prime Minister arrived at Palam Airport in New Delhi on a VVIP chartered flight of Biman Bangladesh Airlines on Monday afternoon on a four-day official visit. She was given a red carpet reception there. In the afternoon, Indian Foreign Minister Dr. S. Jaishankar paid a courtesy call on the Prime Minister.
The diplomats of Dhaka hope that there is a possibility of some mutual agreement between the two countries during this visit, which will play a helpful role in the necessary activities or policy-making in dealing with various challenges.
Diplomatic sources in New Delhi say that in addition to bilateral meetings at the level of the heads of government, all issues related to the interests of both sides will be discussed there, which will include common river water distribution and management, border security and management, electricity and energy cooperation, trade and economic cooperation, development cooperation, cultural cooperation and people-to-people communication.
In addition to regional and international issues, the existing instability and damaged supply systems around the world will also be discussed in the meeting.