South Asia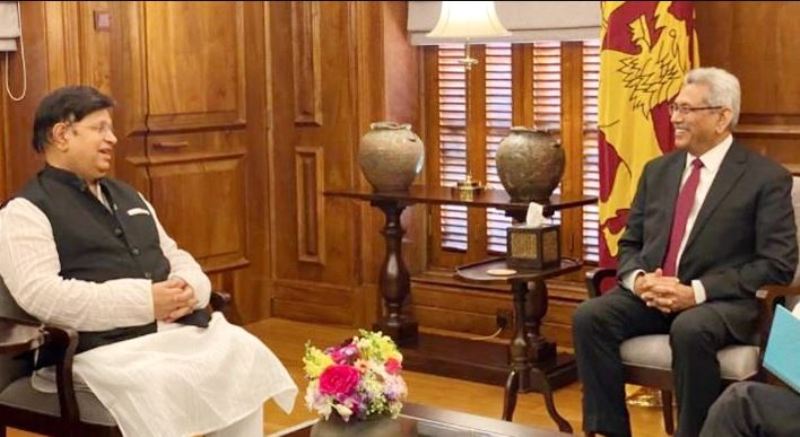 Photo: Collected
Sri Lankan President congratulates Sheikh Hasina on combatting terrorism
Colombo, Sri Lanka, March 31: Sri Lankan President Gotabaya Rajapaksa has lauded the visionary leadership of Prime Minister Sheikh Hasina for her policy of common prosperity with a special focus on terrorism and violent extremism.
This information was given in a statement from the Ministry of Foreign Affairs on Wednesday (March 30). The President congratulated Foreign Minister Dr. AK Abdul Momen on his courtesy call on him at the Presidential Palace in Colombo.
During the meeting, the Sri Lankan President proposed to make more use of Colombo port for transporting Bangladeshi goods. Dr. Momen called on the President of Sri Lanka to increase trade and expand tourism through regular commercial shipping lines and cruise shipping between Chittagong and Colombo ports.
To promote tourism between the two countries, the Bangladesh Foreign Minister emphasized the need for affordable air tickets with increased air connectivity with the participation of more airlines.
Dr. Momen called on the President of Sri Lanka to make concerted efforts to fully utilize the trade potential between Bangladesh and Sri Lanka. He also asked the Sri Lankan government to look into the possibility of importing agricultural products including pharmaceuticals and potatoes from Bangladesh.
Both sides welcomed the progress made in expeditious implementation of the Priority Bilateral Trade Agreement to strengthen and facilitate bilateral trade between Bangladesh and Sri Lanka.
The two sides discussed possible new areas of cooperation, including food security, ICT, healthcare and the maritime economy. Both sides agreed to expedite and complete the process of negotiations and ratification of the unfinished bilateral agreement to enhance the greater welfare and bilateral engagement of the people of the two countries.
Dr. Momen reiterated Sri Lanka's continued support for the immediate repatriation of the forcibly displaced Myanmar citizens, including security and dignity.
He is currently in Sri Lanka on the sidelines of the 18th BIMSTEC Ministerial Meeting and the 5th BIMSTEC Summit. The Foreign Minister congratulated the President of Sri Lanka for successfully hosting the BIMSTEC Summit. Both sides expressed satisfaction over the celebration of the 50th anniversary of diplomatic relations between the two countries on March 4.