South Asia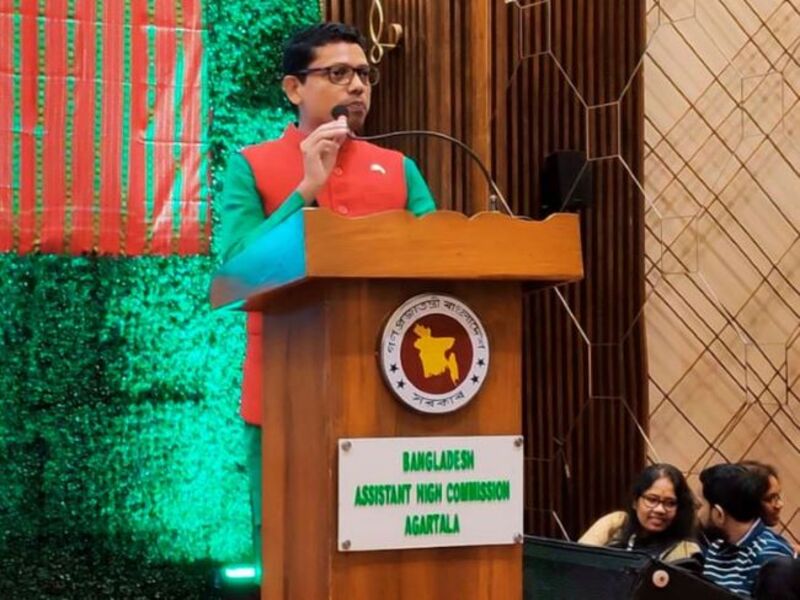 Photo: PID
State Minister for ICT calls on India-Bangladesh to work together to build Smart Bangladesh and Tripura
Agartala, Tripura, April 30: State Minister for Information and Communication Technology, Junaid Ahmed Palak, highlighted the potential of Smart Bangladesh in 2041 and said, "We want the two countries (India and Bangladesh) to work together as knowledge partners in building Smart Tripura along with a Smart Bangladesh."
He said, "Since we have the same climate, environment and culture, we can work together to formulate policies on smart education, healthcare, agriculture and the environment to build an innovative nation."
He hinted that entrepreneurs in the ICT industry in Bangladesh could invest in the 20-hectare special economic zone, which is being set up in Tripura.
The State Minister made the remarks while addressing the 'Digital Bangladesh IT Business Summit 2022' held at Hotel Polo Tower in Agartala in India's Tripura on Thursday night.
According to a press release received in Dhaka on Friday, the IT conference was jointly organized by the Bangladesh Hi-Tech Park Authority of the ICT Department and the Agartala High Commission. Tripura Chief Minister Biplab Kumar Deb was the chief guest at the conference titled Digital Bangladesh to Smart Bangladesh.
Special guests at the conference were Information and Culture Department and Youth and Sports Minister Sushant Chowdhury, Home, Prisons and Firefighting Minister Ram Prasad Pal and Managing Director of Hi-Tech Park Authority Bikarna Kumar Ghosh.
Welcoming speech was made by Arif Mohammad, Deputy High Commissioner of Bangladesh to Tripura, India. On the occasion, Puneet Agarwal, Chief Secretary, Department of Industrial Commerce and Information and Technology, highlighted the potential of IT industry in Tripura.
Highlighting the objectives of the summit, State Minister for ICT Junaid Ahmed Palak said, "Architect of Digital Bangladesh Sajeeb Wazed Joy has created opportunities for the talented people of Bangladesh. As a result, two million youths have been employed in the IT sector. Under his guidance, information and communication technology education has been made compulsory from 2010 to 6th to 12th class in the development of skilled human resources."