South Asia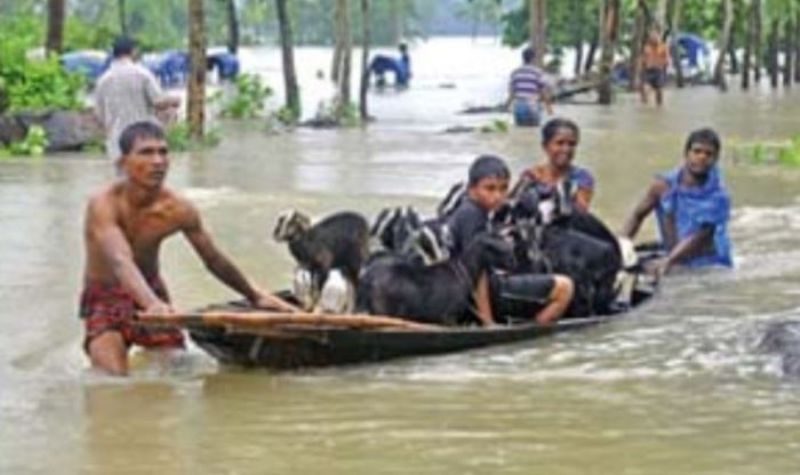 Collected
Teesta water is flowing into Bangladesh from the upstream when Ghazaldoba gate is opened
Own Correspondent, Dhaka, 26 August 2023: Due to the opening of the Ghazaldobar gate in India, Teesta water is rushing towards Bangladesh from upstream. The rivers and streams of the northern part of the Toitambur country are now flooded with water coming down like incessant rains and mountain torrents. In particular, water has increased in various rivers including Teesta, Ghaghat, Dharla, Brahmaputra and Karatoa.
In this, water has entered the lower areas along the river bank of Rangpur region. As a result of this, the farmers are afraid of extensive damage to various crops cultivated in the grazing area. The lower areas along the river bank are submerged in water. In some places, houses and crops are submerged knee-deep in water. From time to time the Teesta water is fluctuating above the boundary line.
At 6 am on Saturday morning, water is flowing over 10 cm at Dalia barrage point in Teesta and 33 cm above the limit at Kaunia point in Rangpur. Paubo fears that it may cause flooding. On the other hand, according to the sources of India's West Bengal Flood Authority Center, about 10 lakh cusecs of water from Ghazaldoba barrage point has been released towards downstream at 10 am on Friday. In total, between 6 am and 4 pm on Friday, India released a maximum of 2 lakh 1 thousand 647 cusecs and a minimum of 1 lakh 69 thousand 848 cusecs of water per hour towards Bangladesh.
While a yellow alert has been issued in India's protected area of Teesta, the Irrigation Department has issued a red alert in the protected area from Domhani to Bangladesh. Over the past 24 hours, Sikkim, Darjeeling and northern districts of West Bengal have received heavy rains. West Bengal's northern districts of Jalpaiguri and Siliguri, adjacent to the Teesta, received heavy rainfall. According to the Flood Authority Center, the amount of rain is more in the hilly areas than in the plains.
Meanwhile, it has been found out in various areas along the river banks of Rangpur, Lalmonirhat, Nilphamari, Kurigram and Gaibandhar that after several days of hot weather, continuous rains started. This caused the Teesta water to rise at Dalia Point, the country's largest irrigation project, Teesta Barrage. Due to rising water, severe erosion has occurred in the river bank areas. Also, thousands of people are trapped in some flooded low-lying areas.