South Asia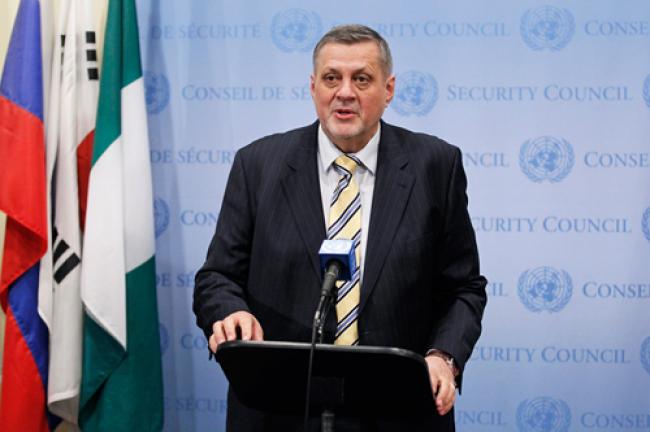 UN condemns deadly attack in southern Afghanistan
New York, Apr 9 : The United Nations Assistance Mission in Afghanistan (UNAMA) has strongly condemned an attack in the southern province of Kandahar which killed 15 civilians and injured another five.
A pressure-plate improvised explosive device (PP-IED) was detonated on 7 April in Gilankicha village in Maywand district by a pick-up truck carrying 20 civilians. The incident took place on a road frequently used by civilians, according to a statement issued by UNAMA.
"The recent increased use of indiscriminate, victim-activated improvised explosive devices (IEDs) by anti-Government elements in areas often used by civilians is particularly alarming," said the Secretary-General's Special Representative for Afghanistan and head of UNAMA, Ján Kubiš.
UNAMA reinforced its calls for an immediate end to the use of these illegal, indiscriminate IEDs. It has documented 187 civilian deaths from IEDs and injuries to another 357 during the first three months of 2014 – a 13 per cent increase in civilian casualties compared to the same period in 2013.
Within these figures and time period, civilian casualties from PP-IEDs rose 93 per cent, reversing a decline observed in the use of this type of device in 2013.
UNAMA highlighted that the use of illegal, indiscriminate IEDs may amount to a war crime. International humanitarian law – which binds all parties to the armed conflict in Afghanistan – strictly prohibits the use of weapons and attacks that do not distinguish between civilians and military objectives.
The attack comes as vote counting continues in the country following Saturday's presidential and provincial council elections. UNAMA has urged the presidential candidates and their supporters to respect the work of the national electoral institutions as they carry out their work, and called on them to await the release of official results.
"The process is not yet complete," he stated following a meeting
on Monday
with officials from both bodies. "Votes must be counted, complaints resolved fairly and efficiently, and the two bodies must cooperate closely to release the results in a transparent and timely manner."
The UN envoy noted that it is now vitally important to protect the impartiality and credibility of the election process so that the millions of ballots cast by voters can be translated into a legitimate outcome that is broadly accepted by the Afghan people.
Preliminary nationwide results are expected on
24 April
, and the final results on
14 May
, after the formal adjudication of all complaints.
Special Representative and Head of the UN Mission in Afghanistan (UNAMA) Ján Kubiš. UN Photo/Paulo Filgueiras