South Asia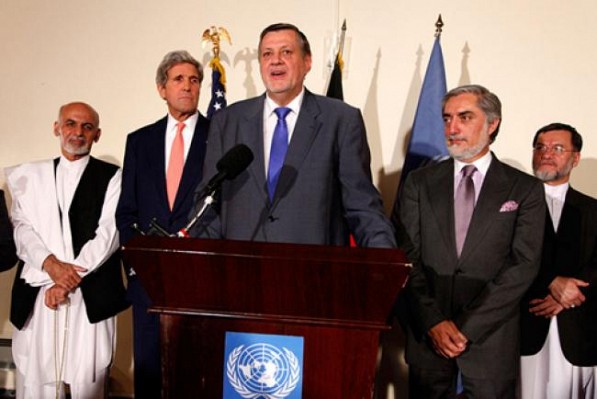 UN mission welcomes efforts to begin audit of Afghan presidential run-off vote
New York, July 15: The top United Nations official in Afghanistan has hailed the efforts by the country's Independent Election Commission (IEC) to start the implementation of an audit plan to help resolve concerns over the results of the presidential run-off poll.
"The Commission (has) started already discussions on how to quickly start the implementation of this really unprecedented full audit of all the ballots cast," Ján Kubiš, the Secretary-General's Special Representative and head of the UN Assistance Mission in Afghanistan (UNAMA), told a news conference in the capital, Kabul, on Sunday.

The audit plan, facilitated by the United States Secretary of State, John Kerry, was announced on Saturday at a press conference attended by the two presidential candidates, Abdullah Abdullah and Ashraf Ghani, as well as Kerry and Kubiš.

For weeks, both presidential candidates had requested a full investigation of serious and credible allegations of fraud and have strongly urged measures that would separate fraudulent ballots from valid votes. UNAMA had shared these concerns and supported an extensive and thorough investigation and audit.

Agreed on by both of the candidates, the plan involves a complete audit of the results of the run-off held on 14 June – roughly eight million ballots – to be held in Kabul with monitoring by national and international observers, as well as the formation of a government of national unity, among other points.

On Sunday, UNAMA forwarded the agreed audit framework and procedures, including an audit checklist, to the IEC and the Independent Electoral Complaints Commission (IECC).

Kubiš told reporters on Sunday that UN will be advising and providing its good offices in support of the audit plan. As part of its support, the UN Department of Political Affairs has deployed the Director of the Electoral Assistance Division, Craig Jenness, to Afghanistan.
Ján Kubiš, Special Representative and head of the UN Assistance Mission in Afghanistan, at a press conference with presidential candidates Abdullah Abdullah and Ashraf Ghani. US Secretary of State John Kerry looks on. Photo: Fardin Waezi/UNAMA