South Asia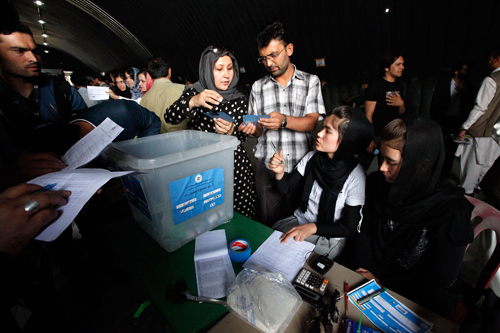 UN mission welcomes start of audit of Afghan presidential run-off election
New York, July 18 : The United Nations Assistance Mission in Afghanistan (UNAMA) has welcomed the start on Thursday of the audit of the results of last month's presidential run-off election.
The audit is part of a plan brokered by the United States and agreed to by the two candidates in the run-off, Abdullah Abdullah and Ashraf Ghani, who have committed to participating in and abiding by its results. It involves a complete audit of the results of the run-off held on 14 June – roughly eight million ballots – in Kabul with monitoring by national and international observers.

UNAMA said in a statement that the process is being conducted by Afghanistan's Independent Election Commission (IEC), under close and extensive supervision led by the UN. The Director of the UN Electoral Assistance Division, Craig Jenness, is in Kabul to supervise the preparations for the unprecedented audit. The IEC is also being assisted by the experts from the UN Development Programme (UNDP).

Conducted in accordance with international standards, the audit will abide by an IEC checklist as well as UN recommendations. Any disputes and outstanding questions will be referred to the UN for advice, including on international best practices. The UN will also provide advice to the IEC Board of Commissioners throughout the process, the Mission said.

In addition to several international election observers in the country to monitor the review, agents of the Presidential candidates, various international media and UN advisors are also taking part in ensuring the audit's fairness and objectivity.

UNAMA said it hopes the audit will strengthen the credibility of the country's electoral process and that the results will be accepted by the two campaigns as well as all Afghans.

For weeks, both presidential candidates had requested a full investigation of serious and credible allegations of fraud and have strongly urged measures that would separate fraudulent ballots from valid votes. UNAMA had shared these concerns and supported an extensive and thorough investigation and audit.
IEC workers start the audit of ballots casted in the Presidential election run-off on 14 June. Photo: Fardin Waezi/UNAMA