South Asia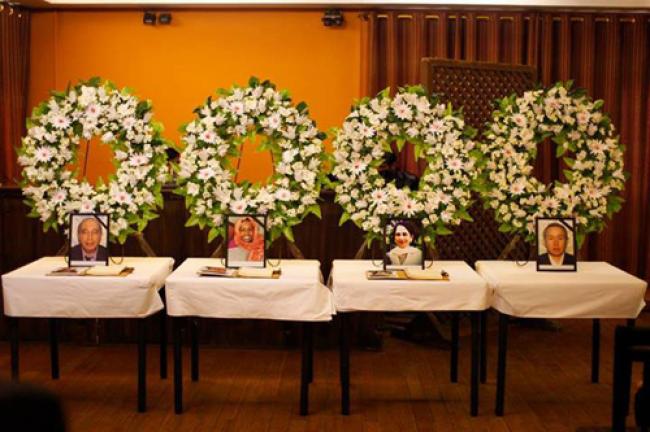 UN officials pledge continued support to Afghanistan
New York, Jan 21 : United Nations Monday flew its flags at half-mast in honour of four staff members killed in Friday's terrorist attack in Kabul, with UN Secretary-General Ban Ki-moon and other senior officials pledging to continue working in active support of Afghans.
"As the United Nations mourns this terrorist attack and its victims, we remain committed to work for the peace, stability and development of Afghanistan," Ban said in a message delivered by his special representative Jan Kubiš. "We fully support the transition of Afghanistan toward a better future in peace, development and security."
Vadim Nazarov of Russia, Basra Hassan of the United States, Nasreen Khan of Pakistan and Wabel Abdallah of Lebanon were among the more than 20 people killed in an attack on a popular Lebanese restaurant, La Taverna du Liban.
The entrance to the restaurant has since been covered in daffodils and roses, according to media reports, and placards reading "We Stand Against Terrorism" and "Peace is What We Want" by local residents.
The Taliban have taken responsibility for the attack, which has been condemned by Ban and a host of UN officials, as well as the 15-member UN Security Council.
The UN has also reiterated that the deliberate targeting of civilians is a gross violation of international humanitarian law, and urged a stop to the violence throughout the country.
On Sunday
, hundreds of national Afghan and international representatives took part in the memorial service at the main UN compound in Kabul.
"Vadim, Nasreen, Basra and Wabel represented the highest ideals of our Organization," said Kubiš, the head of the UN Assistance Mission in Afghanistan (UNAMA).
"
Monday
, the United Nations family stands with you in grief and solidarity. Our thoughts and full support are with you, and with the families," he added.
Nazarov, who had worked with UNAMA since 2005, was "much-valued by the UN because of the depth of his knowledge and understanding of Afghanistan," said the Secretary-General's Deputy Special Representative on the political side, Nicholas Haysom.
"In my country, when a colleague, a comrade, passes on, we bid him farewell, a gentle journey, by assuring him or her that we will pick up his spear – by which we mean, in this setting, that we will continue to work for the vision and for the ideals for which he had worked and, in this case, died for," Haysom said. "It is with this assurance that I and my colleagues bid Vadim Nazarov, good friend, farewell."
In a statement
on Saturday
, the UN Children's Fund (UNICEF) said the two staff it lost in the attack – Hassan, a nutrition specialist, and Dr. Khan, a specialist in reproductive health – were an integral part of the UN agency's team in Afghanistan and the larger community of international staff "who are dedicated to improving the lives of others and building a better, safer world for all."
"The loss of our colleagues is therefore not only a personal one; it is a loss to that indispensable cause," the UN agency noted. "The depth of our shock and sorrow at receiving this news — and the magnitude of our outrage over this senseless violence — is difficult to measure."
In a separate statement issued in the aftermath of the attack, International Monetary Fund's (IMF) Managing Director, Christine Lagarde, said, "This is tragic news, and we at the Fund are all devastated. Our hearts go out to Wabel's family and friends, as well as the other victims of this attack."
Speaking at the memorial service, Mark Bowden, the other UNAMA deputy special representatives, this one on the humanitarian side, called Abdullah "one of Afghanistan's unsung heroes" who "helped untangle the Kabul Bank mess and made the constructive suggestions that were needed to restore confidence in the monetary economy."
Photos of four UN staff killed in 17 January 2014 suicide bombing are displayed at memorial service in Kabul. Photo: UNAMA/Fardin Waezi