Sports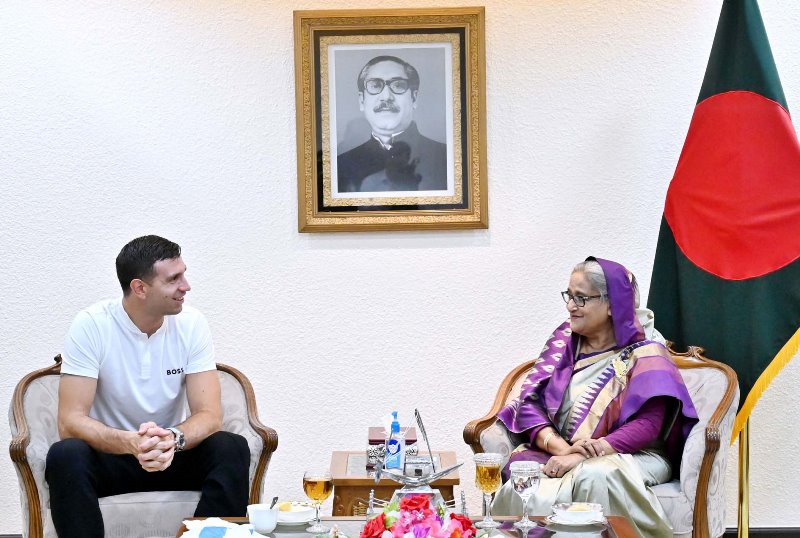 Photo: PID
Argentina's World Cup winning goalkeeper Martínez meets with PM
Dhaka, July 4: FIFA World Cup-2022 winning Argentina goalkeeper Emiliano Martinez paid a courtesy call on Prime Minister Sheikh Hasina on Monday.
During the meeting, the Prime Minister praised the Argentinian footballer for his contribution in winning the Football World Cup-2022 title and said, "You are the person who brought glory to Argentina. I wish you all the success."
After the meeting, Prime Minister's Press Secretary Ihsanul Karim briefed the journalists.
Sheikh Hasina said that football is the most popular game in the world and Bangladeshis are fans of this game. Referring to his family as a sports-loving family, the Prime Minister said, "My father and grandfather were footballers." She said that her government is setting up mini stadiums all over Bangladesh to promote football and other sports.
Emiliano Martinez was overwhelmed to know that there are many fans of Argentina in Bangladesh. He said, "I am very happy to be here and happy to see the passion of Bangladeshis for football."
The Prime Minister presented the Argentinian icon with her party Awami League's election symbol 'Boat' and Sheikh Hasina was presented with an Argentine jersey signed by Martinez himself.
The visiting delegation included Indian organizer and founder of Shatadru Dutt Enterprises Shatdru Dutt and Martinez's lawyer and manager Santiago Liotta (Italian).