Sports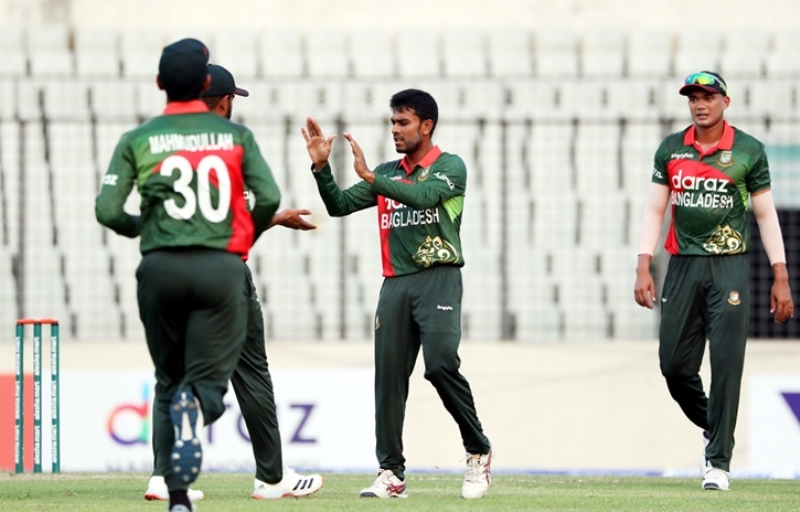 tigercricket.com.bd
Bangladesh defeat Sri Lanka in first ODI by 33 runs
Dhaka, May 24: In the first match of the three-match series against Sri Lanka in the World Cup Super League, Bangladesh easily won by 33 runs. Batsmen Mushfiqur Rahim, Tamim Iqbal and Mahmudullah Riyad contributed to the victory, as did Mehdi Hasan Miraj.
This is Bangladesh's eighth win in ODI cricket against Sri Lanka. At the same time, this is the fourth victory of the Tigers in the World Cup Super League.
Bangladesh has 40 points in these four wins. If Bangladesh wins the remaining two matches, it will rise to the top of the points table. At the same time, this is the first time the series will be won against Sri Lanka.
Sri Lanka fell short while chasing 258 runs. They went from 82 for 2 in 18 overs to 102 for 6 in 27.3 overs. In other words, the Lankans lost 4 wickets for just 20 runs in 9.3 overs. The main architect of Bangladesh's win was offspinner Mehdi Miraj.
In the fifth over of the innings, Miraj sent Gunathilaka back. Gunathilaka made 21 off 19 balls before being dismissed. In the first spell, Miraj took one wicket at the cost of 11 runs in four overs. Later in the second spell he took three more wickets at the cost of 19 runs in six overs.
Before Miraj returned in the second spell, Pathum Nissanka (8 off 13 balls) was dismissed by Mostafizur Rahman and Kushal Mendis (24 off 36 balls) fell victim to Shakib Al Hasan. Miraj was brought for his second spell shortly after Mendis was dismissed by Shakib.
Mirage took the wicket of Lancan captain Kushal Perera in the second over of the new spell. Perera was able to score 30 runs off 50 balls before being dismissed. Dhananjay de Silva made his way to the dressing room in the next over. At one stage in the second spell, Mirage's bowling figure was 4-2-3-2! In other words, Miraj had the visitors grounded in the spell of four overs.
Mehedi Hasan Miraj, Mustafizur Rahman, Saifuddin and Shakib Al Hasan took four, three, two and one wickets respectively.