Sports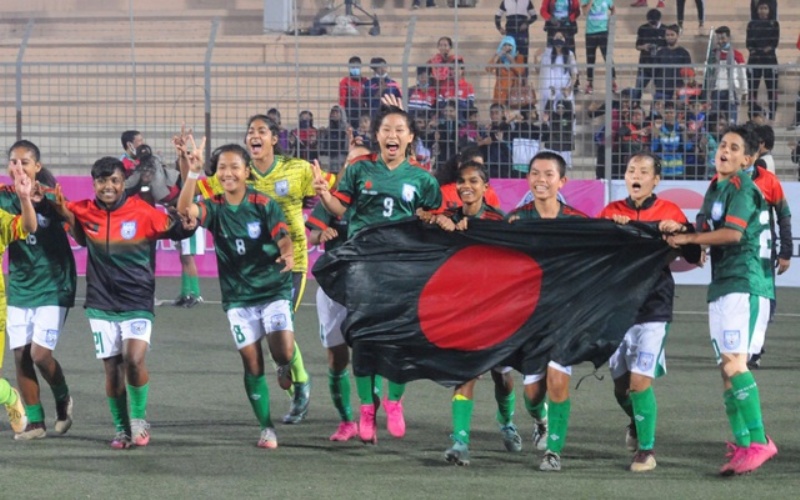 Collected
Bangladesh emerge champions in SAFF U-19 Women's Championship
Own representative, Dhaka, 23 December: A late goal by Anai Mogini helped Bangladesh to win title of SAFF U-19 Women's Championship, beating India by a solitary goal in the final held Wednesday at Birshrestha Shaheed Sepoy Mohammad Mostafa Kamal Stadium in the city's Kamalapur.
Anai Mogini put Bangladesh ahead in the 79th minute at the Birshreshtha Shaheed Sepoy Mohammad Mostafa Kamal Stadium in Kamalapur on Wednesday. This one goal ultimately determined the title. The spectators at the stadium burst into joy when Anai grabbed the ball from Shaheda Akhter Ripa's back heel and scored the goal.
After beating India and becoming the champion, the girls of Bangladesh kept the title intact.
Bangladesh became the champion by defeating Nepal in the U-18 Championship held in 2018. The same tournament was held this time under the name of Under-19 Championship. Bangladesh won the tournament when they were under-18s, beating Nepal in the final. This time the mission of retaining the title was more of an achievement. Bangladesh girls have beaten India twice — in League match and final.
Maria-Ankhi and the squad have become the champion as a qualified team. From the beginning, they continued to dominate India's defense. The referee also canceled two goals. Everyone was surprised when the second goal was canceled.
Anai Mogini's goal was worth watching. Ripa's backheel and Anai's longshot shook the Indian net as the goalie missed the ball's flight. State Minister for Youth and Sports Md. Zahid Ahsan Russell MP, who was present as the chief guest, distributed prizes at the end of the game. BFF and SAF President Kazi Mohammad Salauddin, General Secretary Md. Abu Naeem Sohag, FIFA Council Member Mahfuza Akter Kiran and other officials were also present.