Sports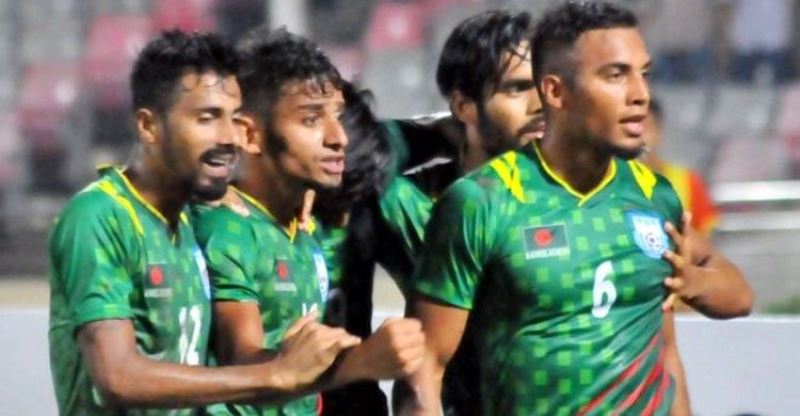 Collected
Bangladesh football team start with a win in Nepal
Dhaka, March 24: Bangladesh has started with the victory in the tri-national invitational football tournament of Nepal. Bangladesh beat Kyrgyzstan 1-0 in the opening match at the Dasharath Stadium in Kathmandu.
Bangladesh took the lead in the 30th minute of the match with an own goal by the Kyrgyz.
Saad Uddin entered the box with the ball on the right side and took the cross and was deflected into their own post by a Kyrgyz defender.
Bangladesh could have gone to the break with a 2-0 lead. In the 18th minute, captain Sohail Rana's shot was blocked by a Kyrgyz defender standing in the box, but the Nepali referee avoided it.
After that both teams tried to score but failed. Bangladesh coach Jamie Day made several changes in the team in the second half. He replaced three players in the 56th minute.
Masuk Mia Johnny was replaced by Jamal Bhuiyan. Biplu Ahmed was replaced by Rakib and Habibur Rahman Sohag was replaced by Riyadul Hasan.
Jamie then made two more changes. He picked up Mehdi Hasan in the 65th minute and replaced him with Manik Mollah, and in the 72nd minute he sent Yasin Arafat to replace Bishwanath Ghosh. But in the end Bangladesh could not stretch their 1-0 lead.
Bangladesh team: Anisur Rahman Ziko, Mehedi Hasan (Manik Mollah), Rimon Hossain, Tutul Hossain Badshah, Masuk Mia Johnny (Jamal Bhuiyan), Bipolu Ahmed (Rakib), Matin Mia, Sohail Rana, Bishwanath Ghosh (Yassin Arafat), Habibur Rahman Sohag (Riyadul Hasan), Saad Uddin.