Sports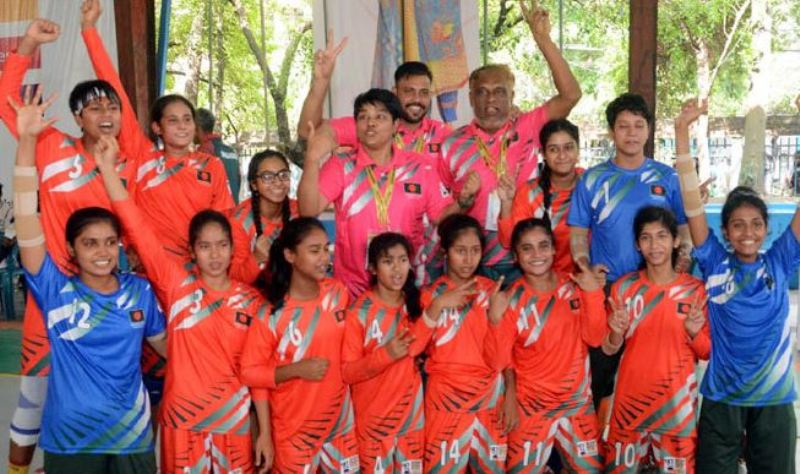 Collected
Bangladesh girls beat India in handball under-17 category
Dhaka, May 17: Bangladesh has won the women's trophy under-17 category of the Bangabandhu IHF Challenge Trophy handball tournament. Bangladesh defeated India 46-43 after a tight contest in the final at the Handball Stadium in Paltan on Wednesday.
The first half was tied at 20-20. The Bangladesh-India contested final took dramatic turns several times. Once India had their nose ahed in the intense fight between the two teams; Bangladesh equalized by scoring a goal.
Bangladesh was trailing by 16-10 till 20 minutes of the first half. From there the team was pulled by the captain Moshammat Marfi, Runa Lailara. Dalia Akhtar's disciples caused havoc in India's defense in the relentless attack. The second half was more competitive than the first half, as the players of both teams displayed their sportsmanship; As well as muscle strength. Both teams had to pay the price as they lost their tempers and attacked their opponents.
Balaso Mane, India's dominant player, left the field on a red card penalty in the 44th minute of the game. Then India became a team of six people. There were seven players of Bangladesh. At that time, the visitors were ahead by a clear margin in the match with 33-28 goals.
In the 50th minute of the game, the Bangladeshi girls completely crushed India. At this time, the hosts reduced the gap by scoring goals. In the 55th minute, Bangladesh's top scorer captain Marfi left the field after seeing three yellow cards in a row (result of penalty for being off the field for 2 minutes).
The Bangladeshi captain played excellently in the whole tournament. She played a big role in bringing the team to the finals and becoming champions.
After the match, the captain said, "I am very happy. Thanks to all the coaches, players, officials. Everyone has supported us a lot. Today, many spectators came to the field and supported us."
When asked if she thought the team will win after seeing the red card? Murphy said, "I thought we were going to lose. But now I'm very happy that the team won."