Sports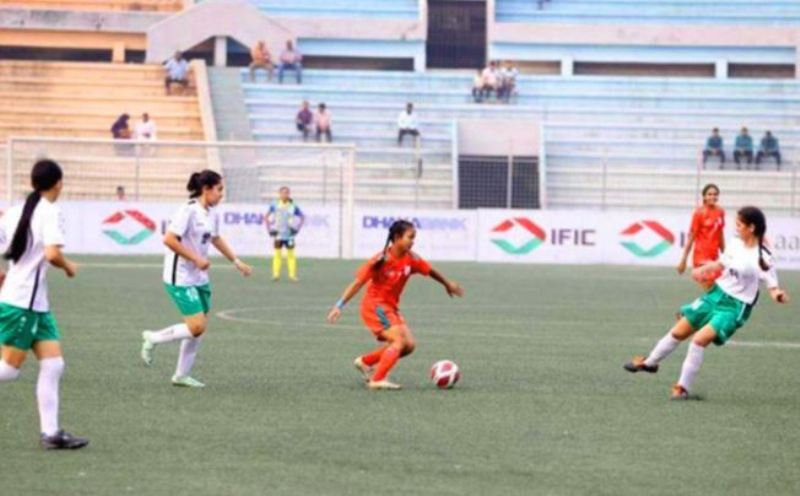 Collected
Bangladesh girls score 4 goals against Turkmenistan
Dhaka, March 11: Bangladesh made a great start in the AFC U-20 Women's Asian Cup qualifiers. Bangladesh defeated Turkmenistan 4-0 in the match held at Bir Shreshta Shaheed Sepahi Mustafa Kamal Stadium, Kamalapur on Friday. The hosts were leading 1-0 in the first half. Akalima Khatun and Swapna Rani scored double goals.
Even though Bangladesh kept possession of the ball, they had to wait up to 45 minutes for the goal. In the fifth minute, Mahfuza could not take a header from the box with a ripper cross from the right side. In the 20th minute, Akalima's weak shot from Surma Jannat's pass was easily caught by the Turkmenistan goalkeeper.
Aklima scored in the first minute of the injury time of the first half to give Bangladesh the lead. There was confusion when Akalima's shot from Sapna's corner was parried by the goalkeeper. Later, when the ball was at Akalima's feet, she did not do anything wrong. She sent the ball into the net with a perfect volley and gave the team the lead.
Akalima Khatun doubled the gap in 71 minutes. Akalima scored her second goal with a right-footed volley from Iti Khatun's cross from the right. Bangladesh scored two goals in the 81st and 82nd minutes to make the gap 4-0. Swapna Rani scored both goals. The first was a header from Iti's cross from the right and the second was a shot from the left.
Bangladesh XI:
Rupana Chakma (Captain), Nasreen Akhtar (Unnoti), Surma Jannat, Afida Khandkar, Sohagi Kisku, Sapna Rani, Mahfuza Khatun (Halima Akhtar), Shaheda Akhtar Ripa, Akalima Khatun (Anika), Irene Khatun, Iti Khatun.