Sports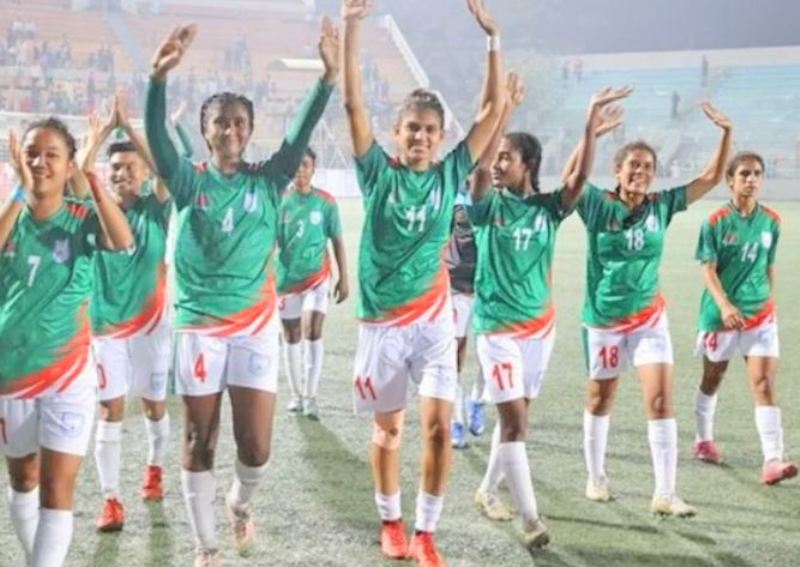 Collected
Bangladesh girls win SAFF Cup undefeated
Dhaka, February 10: None of the teams paid attention to the girls of the Bangladesh U-20 football team in the SAFF Championship. The girls of Bangladesh became the champion after being undefeated. The hosts thrashed Nepal 3-0 in the final of the SAFF U-20 Women's Championship at the Kamalapur Stadium on Thursday.
Last September, Sabina-Krishna flew the victory flag in Kathmandu, Nepal. Sabinader Anuj Shamsunnahar Junior-Rupna Chakma flew the flag of victory in Dhaka after a gap of five and a half months.
After the senior women's event, the girls of Bangladesh are also the champions in the under-20 event. Coincidentally, Nepal was the opponent in the Dhaka final like in Kathmandu.
Bangladesh led 2-0 in the first half. Shaheda Akhter Ripa in the 42nd minute and captain Shamsunnahar scored in the 45th minute to give the host girls a 2-0 lead at the break. In the second half, the difference was 3-0. From the beginning, the girls of Bangladesh did not get a goal despite playing well.
Akalima Khatun got an easy chance in the second minute. Akalima got the ball when Nepali goalkeeper Kavita came to the head of the box to stop the attack. There was an empty post then. But the shot that Akalima took went over the crossbar.
In the 18th minute, captain Shamsunnahar took the ball and passed to Shaheda Akhtar Ripa on the right side. Ripa gave Akalima a cross in the box. If Aklima is standing in space but unable to receive the ball, Bangladesh's chance was lost.
Nepal created the first chance in the 36th minute. But when Amisha Karki took the shot, it went wide of the post.
In the second half, Nepal tried to rise up and play. They also tried to break the defense several times by dividing the dominance of Bangladesh in the midfield. However, the players of Bangladesh did not give that opportunity.
Nepal had a great chance to reduce the deficit in the 80th minute. Bangladesh goalkeeper Rupna Chakma saved Amisha Karki's shot to the right for a corner.
In the end, Bangladesh's lead increased in 87 minutes. Bangladesh girls returned home with another success in the age group after winning 3-0. With this, Bangladesh won the fourth age-wise title.
Bangladesh XI:
Rupana Chakma, Shamsunnahar, Nasreen Akhtar, Surma Jannat, Afida Khandkar, Sohagi Kisku, Sapna Rani, Mahfuza Khatun (Unnati Khatun), Shahed Akhter Ripa, Akalima Khatun (Irene Khatun) and Iti Khatun.