Sports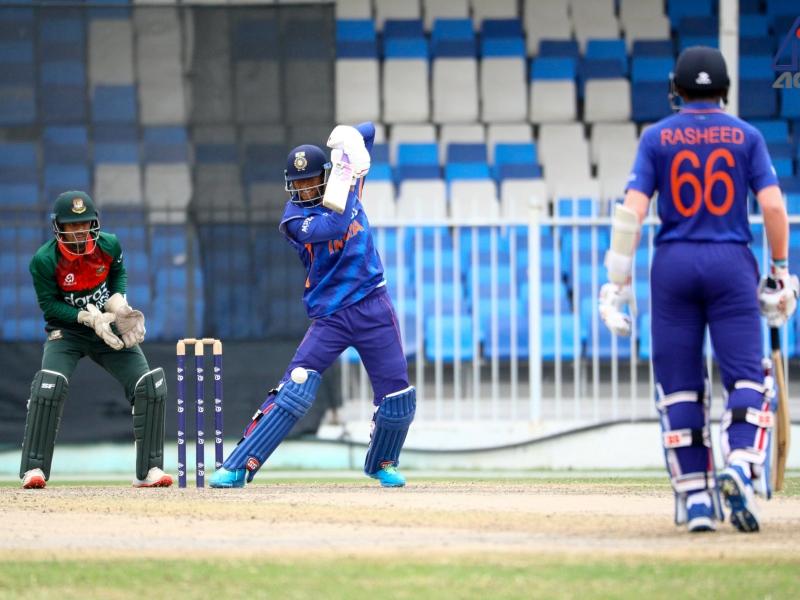 Photo: Collected
Bangladesh lose to India in semi-final in U-19 Asia Cup
Own representative, Dhaka, December 31: In youth cricket, Bangladesh is now a tough opponent for India. But, this time Bangladesh could not give a tough challenge to the Indian cricket team in the U-19 Asia Cup's semi-final match. Bangladesh's journey in the tournament ended with the 103-run defeat.
The target of victory was 244 runs at the Sharjah Cricket Ground. Players of the Bangladesh U-19 cricket team could not even make a possibility of victory due to their batting failure. Bangladesh bundled out for only 140 runs, with 70 balls left in the innings.
Bangladesh did not have a bad start in chasing a challenging total. Mahfizul Islam and Tahjibul Islam scored an opening partnership of 31 runs off 31 balls. Maximum runs in the partnership was contributed by Mahfizul. Tahjibul scored only three runs.
Mahfizul returned to the dressingroom after scoring 26 runs off 23 balls. After Mahfizul was dismissed, no other Bangladeshi batsman could drive the innings to victory. Prantik Naoroz Nabil (12), Aich Mollah (0), Md. Fahim (5), SM Mehrab (7), Ashiqur Jaman (15), Naimur Rahman (6) — Ariful Islam, who came to the bat at number 5, kept on losing partners in regular intervals.
After losing seven wickets before scoring 100 runs (FOW 87-7), Bangladesh could not fight India properly in the game. Ariful Islam was dismissed after scoring 42 off 77 balls (4s:1). Bangladesh U-19 skipper Raqibul Islam scored 16 runs off 32 balls.
Earlier, Bangladeshi bowlers gave a tough challenge to the Indian batsmen. But the youth players of Indian team fought back at the end of their innings and scored 243 runs in 50 overs, losing 8 wickets.
Even after losing eight wickets in 45 overs, Indian U-19 team added 50 runs in the last five overs. Bangladeshi bowlers could not hold their aggressive and controlled bowling attack in the end.
Bangladesh won the toss and chose to field first in the semi-final of U-19 Asia Cup at Sharjah Cricket Stadium. India scored only 77 runs in the first 25 overs after losing three wickets. But they added 166 more runs in the last 25 overs.