Sports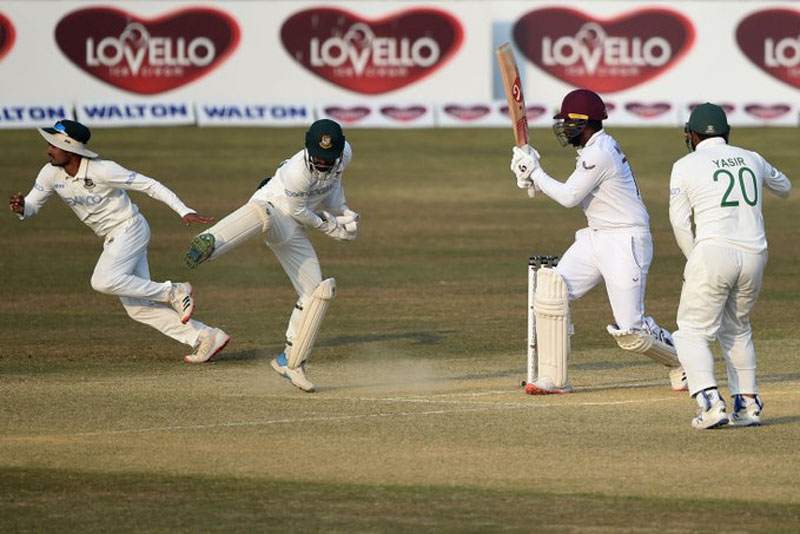 West Indies Cricket Twitter page
Bangladesh on verge of getting Test championship point
Own correspondent, Dhaka, 8 February 2021: Mehdi Hasan Miraj has become a full-fledged all-rounder in the current Chittagong Test.
After scoring a century and 4 wickets in the first innings of the match, he also injured the Caribbean batsmen in the second innings. Thanks to Miraj's all-round performance, the Bangladesh team has started getting points for the first time in the World Test Championship. Bangladesh will win if they take 6 more wickets on the last day of the match.
The Test of the Bangladesh team was played on the fifth day after almost two and a half years without any rain. Bangladesh last played a five-day Test against Zimbabwe in November 2016 and won the match by a huge margin of 216 runs. The Tigers are hoping for a big win against the West Indies this time. West Indies will have to score 275 more runs to win the match with 8 wickets in hand on the last day.
In the second innings of the match, Bangladesh declared the innings at 222 for 7 thanks to the tenth century of captain Mominul Haque's Test career and the 69-run innings of Liton Das. West Indies set a target of 395 runs. In reply, Mehdi Miraj's 3 wickets for West Indies ended the day with 110 runs for 3 wickets.
Bangladesh captain Mominul Haque declared the innings with about 40 minutes left in the second session. West Indies were bowled out for 30 minutes. They did not lose any wicket in that over in those 30 minutes, they scored 16 runs. However, Craig Brathwaite and John Campbell could not play against Mostafizur Rahman very easily.
After the tea break, Mostafiz was not attacked again, Mominul brought spinners from both ends. Bangladesh lost a review in the first over of the session. Taizul Islam's ball bounced off Brathwaite's bat and into the gloves of wicketkeeper Liton Das. The umpire did not give out, Bangladesh took the review for caught behind. In the replay, it is seen that the ball has gone quite far from the bat.
Mehdi Hasan Miraj bowled for the first time in the next over. West Indies picked up 14 runs in his first two overs with three fours. Campbell hit three fours through sweep shots. He continued to play the same shot over and over again as he was successful in the sweep against Mirage. The left-arm opener brought his own danger.
265 runs.