Sports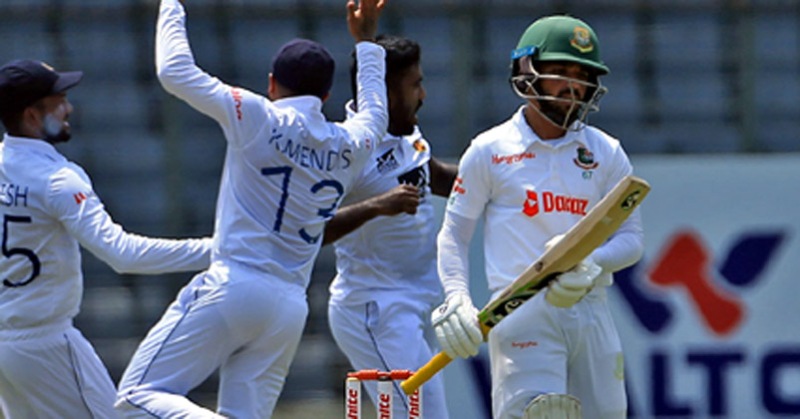 Collected
Bangladesh staring at innings defeat against Sri Lanka
Dhaka, May 27: In the second innings as in the first innings, the top order of Bangladesh showed a terrible failure. This time the first four batsmen returned to the dressing room with 23 runs. As a result, there was a fear of losing the innings. Once again, all the responsibilities fell on the shoulders of Mushfiqur Rahim and Liton Das.
At the end of the fourth day at the Sher-e-Bangla National Cricket Stadium in Mirpur, Bangladesh scored 34 runs for 4 wickets in their second innings. 107 runs are still needed to avoid an innings defeat. The hosts will be able to set a target in front of Sri Lanka only if they score 107 runs on the last day of the match on Friday.
After losing 5 wickets for 24 runs in the first innings of the match, Bangladesh got 365 runs in Mushfiqur-Liton's century. In reply, Angelo Mathews and Dinesh Chandimal's century gave Sri Lanka 506 runs, taking a 141-run lead. Shakib Al Hasan is the fifth batsman of his career.
Later in the second innings, the picture of despair of Bangladesh's top order did not change. This time Liton Das has been relegated to number six after taking 4 wickets for 23 runs. He added 11 runs in 3.5 overs with Mushfiqur handling the initial push. Mushfiqur will start the fifth day with 14 and Liton with 1 run.
Mahmudul Hasan Joy could have returned to the dressing room in the first over after playing 141 runs behind Sri Lanka. Kasun Rajitha's last ball of the over hit the edge of his bat and the ball was deposited in the wicket keeper's gloves. But the bowlers-fielders did not apply. As a result, Joy got life.
In the next over, the young man was increasing the regrets of the visitors by hitting a pair of boundaries. However, the opening pair of Bangladesh did not last long. Tamim Iqbal was caught by Kushal Mendis in the first ball of the sixth over of the innings. Like in the first innings, he was dismissed for zero. For the first time in his career, Tamim got a pair of calls in the same match.
Nazmul Hossain Shanto, who scored two runs, was run out due to a misunderstanding with Joy. Praveen Jayavikrama took the wicket by breaking the stumps on the throw directly from point. After losing two wickets in a short time, instead of handling the disaster, captain Muminul Haque increased the danger.