Sports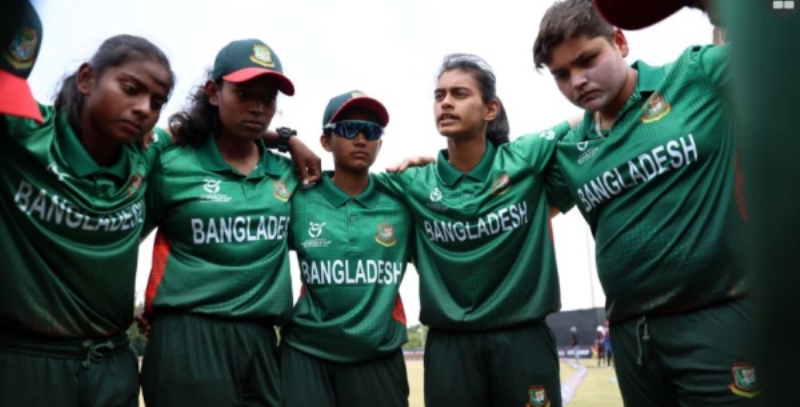 Collected
Bangladesh U-19 women cricketers exit world cup
Dhaka, January 26: Not only the victory against the UAE, but also the run rate was the focus of Bangladesh. Although Bangladesh girls were lagging behind in the run rate gap, it was almost impossible to top India and Australia to the second place.
However, the women cricketers of Bangladesh U-19 team blew away the UAE in Potchefstroom. After winning the toss, UAE were reduced to 69 for 9 by Marufa Akhtar and Rabeya Khan. Rabeya Khan took 3 wickets. Marufa Akhter took 2 wickets. Deepa Khatun, Rhea Akhtar Shikha and Swarna Akhtar took 1 wicket each.
Bangladesh team lost 5 wickets to answer. But the target of victory was reached in just 9.1 overs. Bangladesh won by 5 wickets with 65 balls in hand based on Swarna Akter's stormy batting.
Aafia Pratashya scored 15 runs off 15 balls. Misty Saha got out after scoring 1 run. Sumaiya Akhter is out for no runs. Rabeya Khan scored 14 runs off 13 balls. Akhtar remained unbeaten with 5 runs from 2 balls. Swarna Akhter was dismissed for 38 runs off 19 balls. She also hit 2 sixes with 4 boundaries.
Even in this victory, Bangladesh's departure from the Super Six was confirmed by falling behind in run rate. Australia and India have a better run rate than Bangladesh despite equal points. They have reached the semi-finals.