Sports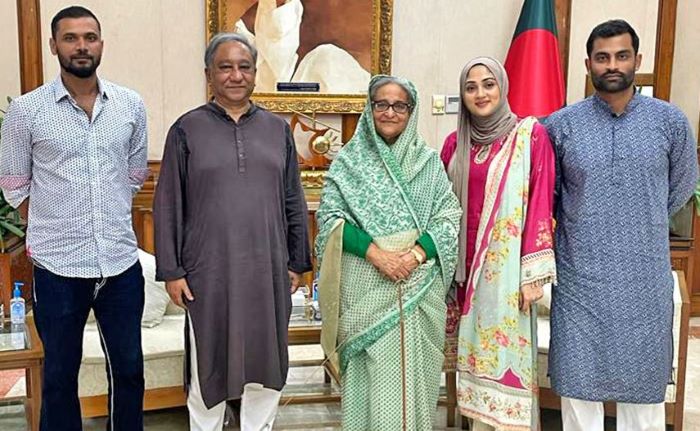 PID Bangladesh
Bangladesh wants Mushrafe to be mentor during WC, Sheikh Hasina agrees
Dhaka, 8 July 2023 : In a live event a couple of years ago, Tamim Iqbal said that he wanted Mashrafe bin Mutarza as a mentor for the 2023 World Cup.
Finally, Tamim's wish is going to be fulfilled. He expressed that demand in his meeting with Prime Minister Sheikh Hasina. The Prime Minister also agreed to it.
BCB President Nazmul Hasan Papon sat in a meeting with the Prime Minister on the issue of Tamim's retirement on Friday afternoon. Former captain Mashrafe Bin Mortaza was also present at this time. However, Tamim told one of the country's leading media outlets about Mashrafe's mentorship in the World Cup, "I have told the honorable Prime Minister to give Mashrafe Bhai a one-and-a-half month leave during the World Cup." We want to have him as a mentor in the World Cup. The Prime Minister then laughed and said, of course Mashrafe will go. He also asked Mashrafe Bhai to be ready.
Regarding Tamim's request, Mashrafe said to the media, 'Look, if the honorable Prime Minister gives an order, then it must be accepted. nothing to do He told me to think. I personally think the team is fine. Nothing extra is needed here. Even then, we will see when the time comes.
Earlier, Tamim, who announced his retirement suddenly on Thursday, was called by Mashrafe to the Ganabhaban on Friday. In that long discussion, Tamim explained the reasons and circumstances of his retirement. Later on the instructions of the Prime Minister, he withdrew the announcement of retirement. Later, it is known that this country's best opener will wear the jersey of the national team again as the captain in the Asia Cup.
Although the former captain of the national team, Mashrafe's current identity is a Member of Parliament for Narail-2 Constituency. On top of that, if he gets the green signal for nomination from Awami League in the next election, he is supposed to be busy during the election. The World Cup will be held in India in October-November. By then, the national election campaign will also begin.
Meanwhile, despite talking about retirement, Tamim is not returning to cricket now. He may return during the Asia Cup after taking a one-and-a-half month break from cricket for now. The Asian tournament will be jointly held in Pakistan and Sri Lanka next September. However, he has not yet decided whether Tamim will return there as a captain or just as a player. According to BCB president Nazmul Hasan Papon, Tamim will be seen as captain again.