Sports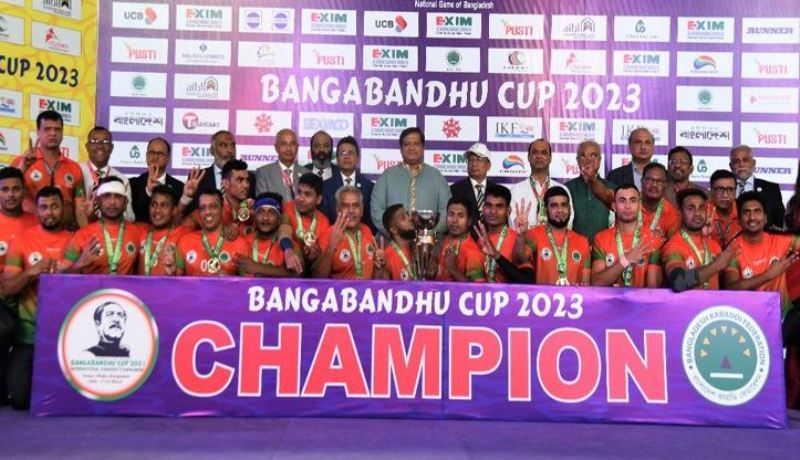 Collected
Bangladesh win the Bangabandhu Cup International Kabaddi title for the third consecutive time
Dhaka, March 21: Bangladesh became the undefeated champion in Bangabandhu Cup-2023 international kabaddi tournament organized by Bangladesh Kabaddi Federation.
The hosts beat Chinese Taipei by 42-28 points to win the title in the final held at Shahid Nur Hossain Volleyball Stadium in the capital on Tuesday. The winning team led by 20-14 points in the first half of the game. With this, Bangladesh won the tournament title for the third time in a row.
Tuhin Tarafdar, the captain of the winning team, was adjudged the best catcher of the tournament and Man of the Final. Mizanur Rahman of the same team won Man of the Tournament and Best Raider award.
Earlier, Kenya was the opponent of Bangladesh in the finals of 2021 and 2022. Host Bangladesh beat Kenya by 34-28 and 34-31 points respectively in those two games.
Bangladesh opened the scoring by getting bonus and then collected another point. However, Chinese Taipei quickly returned to parity by collecting 2 points by continuing to counterattack.
The hosts took the lead again (3-2) with Mizanur Rahman's successful raid. However, Taipei returned to parity with the score. Later on, it they nosed ahead (5-4). After falling behind by 10-9 points at one stage, the hosts returned to tie at 10-10. Bangladesh bowled out Taipei for the first time in the 14th minute of the match. They lead by 14-10 points. In the end, Bangladesh went into the break with a lead of 20-14 points.
In the second half, the scoreline of Bangladesh reached 24-14 points by getting 4 points in Tuhin's raid and bonus. Bangladesh also got the third goal in Tuhin's raid (37-21). In the end, the result of the match was determined by 42-28 points.
At the end of the final, the chief guest, State Minister for Youth and Sports, Zahid Ahsan Russell MP handed over the title to the winning Bangladesh team. Kabaddi Federation President and Inspector General of Police Chowdhury Abdullah Al Mamun handed over the runner-up trophy to Chinese Taipei.