Sports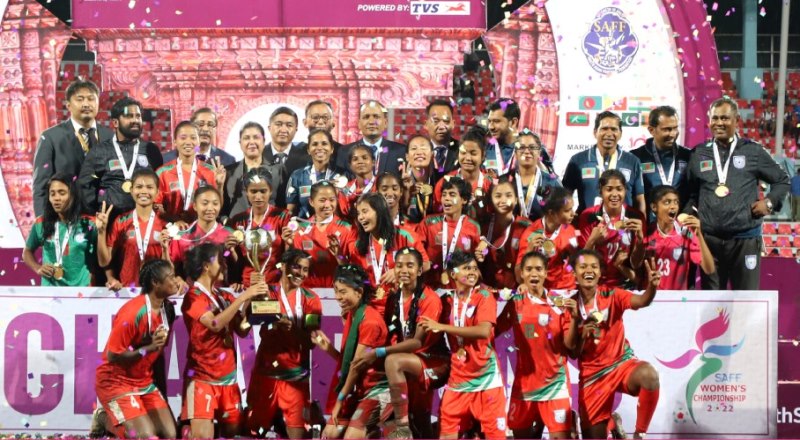 Photo: Collected
Bangladesh women make history, beat Nepal 3-1 to clinch maiden SAFF title
Sports Correspondent, Kathmandu, Sept 20: After defeating a strong team like India 3-0 in the group stage, Bangladesh women footballers took the undeclared crown of champions. All that was left were formalities. The last obstacle to finishing this formality was the host Nepal. Bangladesh could not beat them in SAFF football before.
But the team that scored 20 goals in four games en route to the final, it didn't matter who was playing in the final. However, neither Bangladesh nor Nepal conceded a goal until reaching the final. Again, both countries had the opportunity to make history - to win the glory of becoming champions in women's soccer for the first time.
Bangladesh girls passed the test of strength in the fight for the title in the final. Both teams gave enjoyable football throughout the match, but the host Nepal could not stand in front of Sabina in the game of goals. In the end, Bangladesh made history in women's football by defeating them 3-1. For the first time, Sabina-Krishna's Bangladesh won the women's title.
The final title fight started at 5:30 pm Bangladesh time at Dasaratha Rangshala Stadium in Nepal's capital Kathmandu. Sabina Khatun's team led 2-0 in the first half. They conceded a goal in the second half. The match became 2-1. After a while, Bangladesh scored again and secured the title.
Bangladesh went into the break leading 2-0 with goals from substitute Shamsunnahar Junior and Krishna Rani Sarkar. Bangladesh scored 2 goals in the first half.
Host Nepal tried to take control of the match in the second half. As a result, Nepal scored a goal in the 70th minute. Anita's great shot went into the Bangladesh net.
However, the Bangladeshi girls did not consider the 2-1 goal safe. That's why they kept playing counter-attack with the aim of getting another goal. They didn't have to wait long. Bangladesh scored a goal in the 77th minute. Krishna Rani Sarkar's second goal led Bangladesh 3-1.
Dasharath Rangshala stadium ground covered in mud due to heavy rain. It was difficult to play good football on that ground. Despite this adversity, the girls of Bangladesh played great football and moved towards victory.