Sports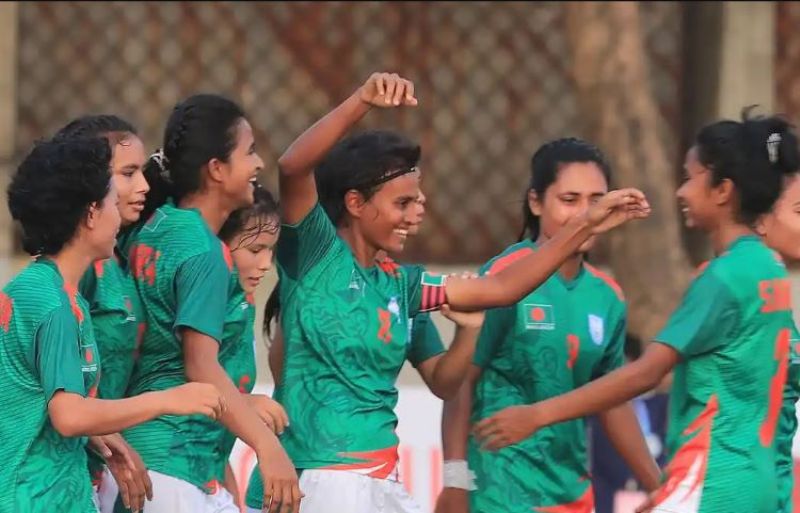 File photo
Bangladesh women's football team beats Malaysia 6-0
Own Correspondent, Dhaka, June 24: In the Asian Cup qualifiers on June 14, Jamal Bhuiyan's squad lost 1-4 to Malaysia in Kuala Lumpur. Nine days later, Sabina and her team avenged that loss in Kuala Lumpur at the Kamalapur Stadium. Bangladesh women's football team defeated Malaysia 6-0.
Malaysia is 61 steps ahead of Bangladesh in the rankings. The visitors never got along with Bangladesh in the field performance. A 4-0 lead in the first half laid the foundation for Bangladesh to win. Krishna Rani Sarkar and Monika Chakma scored in the second half to give Bangladesh a 6-0 victory. Defender Akhi Khatun scored a pair of goals, while captain Sabina, Swapna, Krishna and Monika scored one goal each. Bangladesh's goalkeeper did not have to face any such challenge.
In the ninth minute of the match, the gallery of Kamalapur Stadium danced with joy. Defender Akhi scored from the corner. Captain Sabina scored in the 25th minute. Captain Sabina scored in the 36th minute. Akhi tapped in a Maria Manda corner kick after Malaysian goalkeeper Nurul Azurin failed to stop it.
Bangladesh took another short corner in the 42nd minute. Sabina's shot hit the crossbar of Malaysia and went out. Three minutes later, Sabina scored in the dreaming placement. The two teams went to the break with a 4-0 goal difference.
Malaysia could not return to the match in the second half. The hosts scored two more goals in the second half. Monika scored in the 67th minute and Krishna in the 74th minute. The second match of the two-match friendly will be played on June 26.