Sports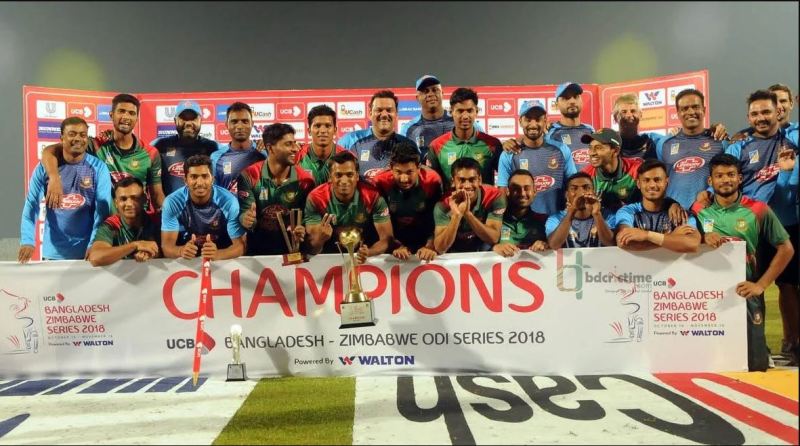 Collected
Bangladesh win ODI series by whitewashing West Indies
Dhaka, January 26: Hosts Bangladesh won the three-match ODI series against the visiting West Indies side 3-0, after registering a win in the final game on Monday.
Chasing a target of 298, the visitors were skittled out 120 runs short of the target.
With this victory, Tamim got the eighth consecutive victory against the Caribbean in ODIs. Won the most against Zimbabwe, 16 matches! At the same time, he has gained 30 important points in the Super League.
Led by Tamim to dominate the entire series, Bangladesh put the West Indies in danger from the beginning.
Mostafizur Rahman took two wickets in the beginning with 30 runs. Kieron was bowled off-stump in the second over. Kiorn said goodbye as soon as he went to stab. He played 6 balls and returned with 1 run.
Another opener Sunil Ambris hit two boundaries to increase the run, but Mostafiz did not let him settle down. Cutter Master made him lbw in the sixth over.
Then the pair of Enkrumah Bonner and Kyle Meyers could not settle down for long. Miraj, the best bowler of the previous match, caught Meyers in the leg before and led him to the dressing room. Meyers was completely defeated in his whirlwind. He could not live with the review, he went back for 11 runs.
The Jason-Bonner duo tried to lead the endangered Caribbean forward. Saif, who got the opportunity today, broke this alliance by saying goodbye to them.
Mushfiqur was the first to bat Jason, who was batting for 18 runs. After that, Saif also dismissed Bonar who scored 31 runs. Bold did.
Of course, he could return before the forest. Twice survived because he had a lucky partner. Once survived with a review at the Leg Before application. Shakib could not catch him again.
In the end, Powell resisted, but he was made lbw by Soumya. Then the rest quickly returned to the toilet. The result was that West Indies were all out for 18 in 44.2 overs.