Sports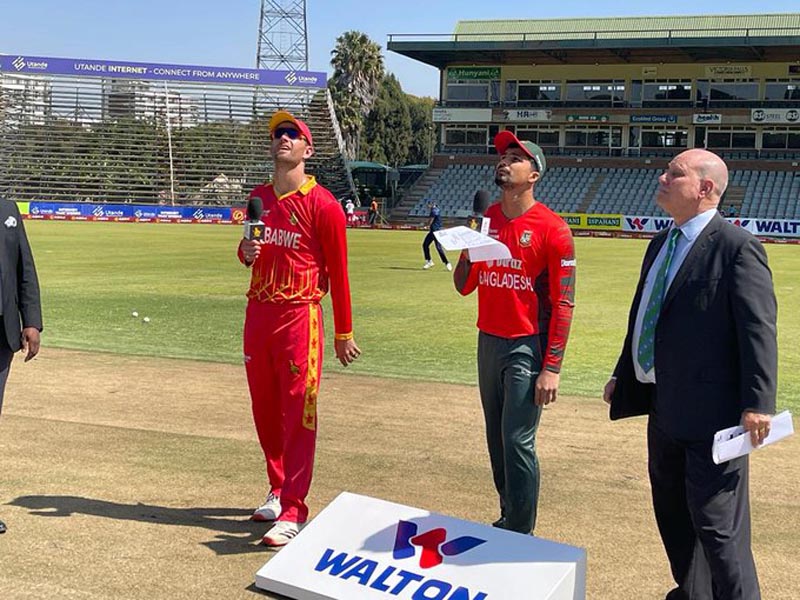 Bangladesh Cricket Twitter page
Bangladesh youth beaten by Zimbabwe in T20 match
Dhaka, 31 July 2022 : None of the seniors. Under the leadership of Nurul Hasan Sohan, Bangladesh has entered a 'new era' in T20 with a bunch of youngsters.
The youth team started with a loss. Bangladesh lost to Zimbabwe by 17 runs in the first T20 of the series in Harare. The hosts took a 1-0 lead in the three-match series.
Batting first, Zimbabwe scored 205 runs for 3 wickets in the unbridled bowling of the Bangladeshi bowlers. In response, the Tigers' innings stopped at 188 for 6 wickets.

Bangladesh lost to Zimbabwe in the last 5 overs. Zimbabwe took 77 runs in those 5 overs. Bangladesh needed 66. Chasing a huge target of 206 runs in the stormy batting of captain Sohan, the Tigers had the chance to win. But the last is not saved anymore.
Even though Sohan played with the same responsibility as the captain, the visitors could not pass such a big target. Sohan remained unbeaten on 42 runs off 26 balls with 1 four and 4 sixes.
Liton Das and Munim Shahriar came to open for Bangladesh. They took 5 runs in the first over. Munim took the path to Sajghar in the second over. Wellington took an easy catch at short third man in Masakadja's spin for 4 from 8 balls.
After that, Liton came out of the shell. With great batting, he brought the team a flying collection of 60 runs for 1 wicket in the power play.
Liton Das also reached the milestone of 1000 runs in T20 cricket on Saturday night local time. It is in his stormy batting that the Tigers see the hope of chasing a big target by handling the power play well. But after that, the right-handed batsman returned to the dressing room with a strange out.
In the seventh over of the innings, Lytton was caught by Shaun Williams at short fine leg. Ngarava palmed the ball but quickly dropped it. As a result, Liton survived the catch out. But Lytton thought he was out. So he left the crease. Williams ran out on that occasion. Lytton's stormy innings of 32 runs off 19 balls and 6 boundaries ended in a foolish dismissal.