Sports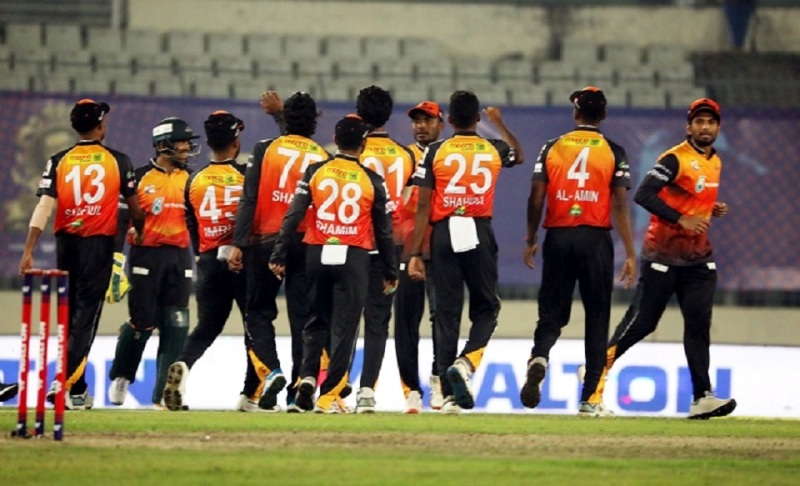 Collected
Cricket: Ariful's four sixes in the last over snatch win for Khulna
Dhaka, November 25: Struggling for most part fo his innings, Khulna's Ariful Haque emerged as the inlikely hero for his team as he hit four sixes off five balls in the last over to seal the game for his side in the second encounter of the Bangabandhu T20 Cup.
Fortune Barisal could not score more than 152 runs by batting first. In response, Khulna's batting was not very good either. Needing 22 off the last over, Ariful scored the runs off Mehdi Hasan Miraj.
Ariful, who became a hero from zero, played an impeccable innings of 48 off 34 balls. The right-handed middle-order batsman has scored 37 more runs from 11 off the first 20 balls to the last 14 balls. The star-studded team Jamcon Khulna got off to a good start in the Bangabandhu T20 Cup by defeating Barisal by 4 wickets with his heroic batting.
Khulna fell in front of the bowling of Taskin Ahmed in the first over of their run chase.
Two openers Enamul Haque Vijay (4 off 3 balls) and Imrul Kayes (0 off 2 balls) returned in the first over. Mahmudullah Riyad (17 off 16 balls) and Shakib Al Hasan (15 off 13 balls) were out in the first power play.
Khulna lost 4 wickets in the power play and fell into the abyss.
Ariful Haque and Zahurul Islam added 44 runs for the fifth wicket. Zahurul returned with 31 runs off 26 balls for the team's 6 runs. Later Shamim Hossain batted bravely. Playing with open arms, he made 26 runs off 18 balls with 3 fours and 1 six.
Yet it was not enough to win Khulna. There were 29 runs left to win in two overs. Ariful struck Shahidul Islam with a single off the first ball of Taskin's over. Shahidul hit a six off the last ball after playing four balls. As a result, in the last over, the equation stood at 22 runs off 8 balls. Barisal captain Tamim Iqbal called Mehdi Miraj to bowl as there was no other bowler in hand.