Sports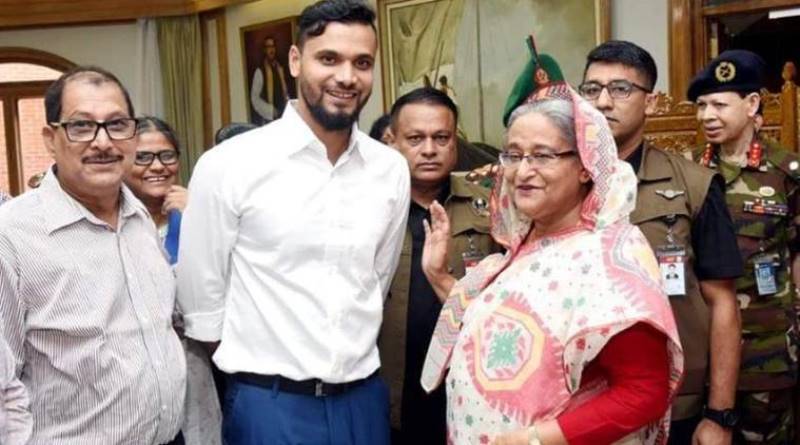 Collected
Cricketer Mashrafe Mortaza among 112 Young Global Leaders
Dhaka, March 12: Former Bangladesh cricket team captain and Narail-2 MP Mashrafe Bin Mortaza has been included in the list of 112 Young Global Leaders of 2021 compiled by the Switzerland-based World Economic Forum. The list was released on Wednesday.
According to the World Economic Forum, Mashrafe is a Member of Parliament from Narail-2 constituency of the ruling party Bangladesh Awami League. His hometown has played an important role in extending a helping hand to the helpless, poor and distressed people in Narail, a district in the south-west of Bangladesh.
Mashrafe launched the Narail Express Foundation to achieve six goals. He is working to ensure modern facilities and education system, create employment, sports training, build Chitra river-centric tourist center and make Narail an IT and eco-friendly city. Mashrafe has taken various initiatives in different fields during the difficult time of the epidemic coronavirus.
The World Economic Forum said: "Over the past year, the world has dealt first hand with the impacts of the COVID-19 pandemic, systemic inequalities, discrepancies in our healthcare systems, economic downturns and education shifting to digital. While many leaders call on the need to 'fix' what is broken, the more urgent need is to take immediate action. Young leaders around the world are leading by example and paving the way for action on these issues."
Mashrafe is one of the 112 young leaders announced worldwide. And he is one of the 10 young leaders selected from the South Asian region. Only Mashrafe got this title from Bangladesh.
The list include nine from Africa; nine from the ASEAN region; two from Australia and Oceania; one from the Caribbean; two from Eurasia; 23 from Europe; nine from Greater China; one from Japan; three from Korea and North Asia; nine from Latin America; 13 from the Middle East and North Africa; 20 from North America; 10 from South Asia. Seven South Asians are from India. The other three are from Bangladesh, Nepal and Pakistan.
From South Asia are Mashrafe Bin Mortaza (Bangladesh), Aditi Avasthi (India), Srikanth Bolla (India), Maleeka Bokhari (Pakistan), Nirvana Chaudhary (Nepal), Gazal Kalra (India), Shreevar Kheruka (India), Ameya Prabhu ( India), Hriday Ravindranath (India) and Hitesh Wadhwa (India).