Sports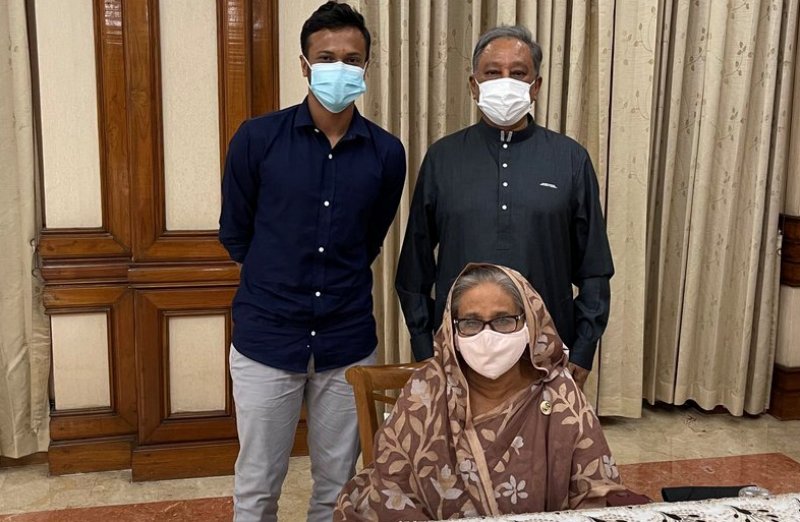 twitter.com/Sah75official
Cricketer Shakib Al Hasan meets Prime Minister Hasina
Dhaka, September 13: Shakib Al Hasan flew to Dubai on Sunday night to play in the Indian Premier League (IPL). Earlier in the evening, the world's best all-rounder met Prime Minister Sheikh Hasina.
However, he did not go alone. Shakib was accompanied by Bangladesh Cricket Board (BCB) President Nazmul Hasan Papon. Shakib uploaded a picture with the Prime Minister on his official Twitter page.
"It was an honour meeting with our honourable prime minister Sheikh Hasina this evening along with our Bcb (sic) president papon bhai!" Shakib wrote.
Shakib signed a goodwill deal with DBL Ceramics at an elite hotel in the capital on Sunday afternoon. Later in the evening, he went to the Prime Minister's Office to meet BCB President Papon.
It is unknown at this time why Shakib and Papon met with the Prime Minister. Meanwhile, Shakib got on a flight to Dubai at 1:40 am on Monday.
The agreement was signed at noon, the meeting with the Prime Minister in the evening and the trip to Dubai at midnight - overall, Shakib had a very busy day. The issue of Shakib's busy schedule was also raised at the signing ceremony of the contract with DBL Ceramics.
Asked how he manages everything, the star allrounder spoke like a true professional. "You have to manage," he said. "A professional athlete has to manage all this now. So that's what I'm trying to do."