Sports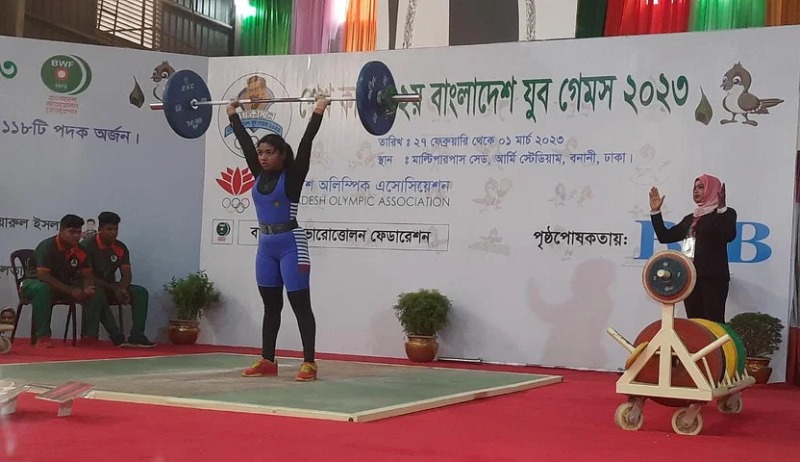 Collected
Daughter wins youth games gold by following mother's path
Dhaka, February 28: At one time, weightlifter Shahria Sultana played regularly in the national team. In a career spanning 14 years, she has won 13 gold medals in national competitions. Shahria is currently working as a weightlifting coach of the National Sports Council.
She is also the Secretary of the Coaching and Research Committee of the Asian Weightlifting Federation and the Technical Officer of the World Championships. Shammi Sultana has come to weightlifting on the path shown by her mother. For the first time, she took part in the 2nd Sheikh Kamal Youth Games. And in the first edition, the sixth grade student of Wills Little Flower School in the capital grabbed everyone's attention. In weightlifting, she won a gold medal in the 55 kg weight category today while creating a record.
Shammi played for Khulna Division. She picked up 50 kg in the snatch. She picked up 62 kg in clean and jerk. Shammi has made a record weight twice. In all, Shammi won the gold by lifting a record 112 kg weight. Ananya Roy of Rangpur division won the silver medal in this event. She picked up 92 kg. Ayesha Khatun of Khulna division won the bronze medal with 81 kg.
Shammi had earlier won gold in national youth weightlifting last year. Shahria, who is excited to see her daughter win gold today, said, "She has broken her own record. I am very happy to see this as a mother. I didn't really want her to be a weightlifter. She picks the weight on her own. She started picking up weight by seeing others since her childhood. One of her dreams is that she will be a big weightlifter. Will be an Olympian. She trains on her own."
When Shahria has to go outside the country as a technical officer of international competitions, Shammi does not stop practicing. "Many times you have to stay out of the country for various purposes. I can't train her. I bought some equipment for this. I also took something from the federation. With this, she continues to practice every day."
Shammi, who won gold in the Youth Games, dreams of winning gold in the South Asian Games as well. "My mother used to play earlier. That's why I came to weightlifting too. I want to maintain the consistency of the performance. I dream of winning gold at the SA Games."