Sports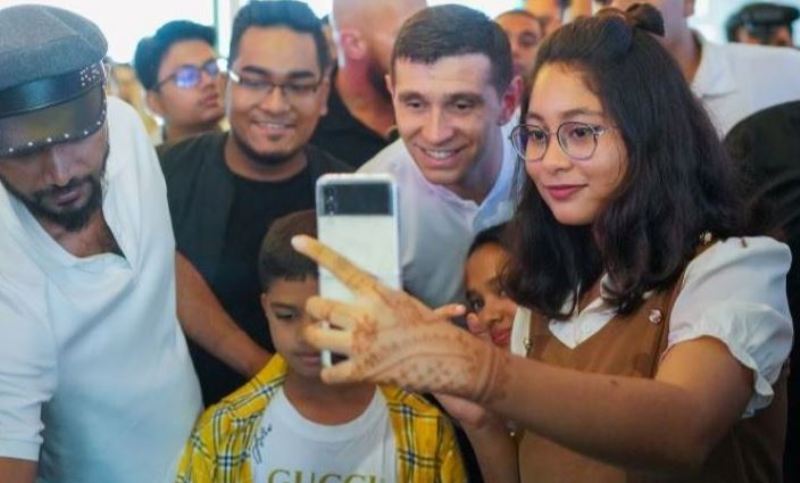 Collected
Emi Martinez visits Dhaka, promises to play against Bangladesh in the future
Dhaka, July 3: Argentina's World Cup winning goalkeeper Emiliano Martinez stayed in Dhaka for only 11 hours. In this short tour, he did not get to experience the madness of the Argentine fans of this country, because there was no interactive event for the faithful.
That's why the Argentinian World Cup winning goalkeeper is a bit upset. He has promised Bangladesh ICT State Minister Junaid Ahmed Palak that he will come to Bangladesh again with the entire Argentina team and also wants to play a football match against the Bangladesh team.
Fundednext, an IT company, sponsored Martinez to Dhaka. This team-mate of Lionel Messi visited the office of this organization in Pragati Sarani. He stayed there for a while. ICT State Minister Junaid Ahmed Palak and former captain of Bangladesh National Cricket Team Mashrafe Bin Mortuza were present at this time.
Emiliano Martinez was presented with a portrait of a falcon (Martinez is known as a falcon in Bangladesh for his swiftness at the goal post), a boat and a portrait of Bangabandhu from the Minister of State for ICT.
Junaid Ahmed Palak said, "The Argentinian goalkeeper knows that the people of Bangladesh know Martinez as a hawk. That's why he came to Dhaka and memorized the word hawk. The Argentinian goalkeeper was very happy to receive a hawk, a boat and a portrait of Bangabandhu."
Martinez wants to come back to Bangladesh. He said this to Junaid Ahmed Palak during the chat. ICT state minister himself told the journalists this information. He said, "Martinez said, he wants to come to Bangladesh again. Not alone, this time he wants to come with the whole Argentina team. He wants to come to Dhaka and play with the Bangladesh team."