Sports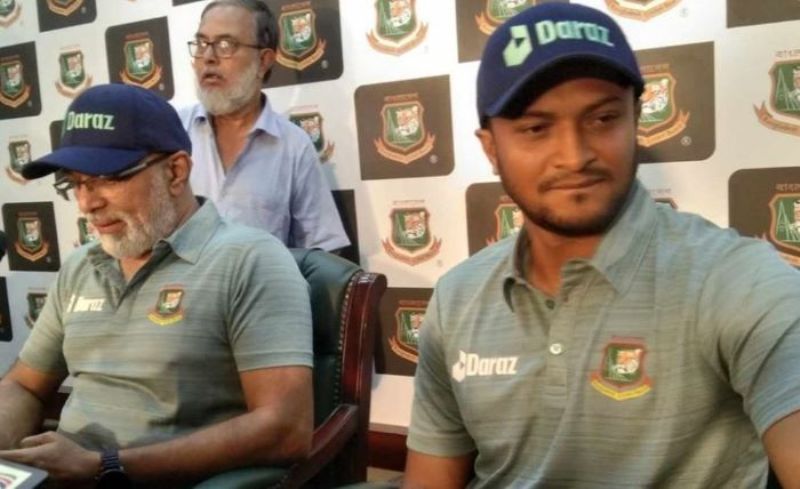 Collected
Feels like we can go a long way: Shakib
Sports Reporter, Dhaka, 26 August 2023: Asia Cup starts from 30 August. Only three days left. Bangladesh team's official preparations on the country's soil are over. Team Bangladesh will leave the country for Colombo on Sunday. Before that, captain Shakib Al Hasan and coach Chandika Hathurusinghe talked about the team's goals and plans in a press conference at the press box of Sher-e-Bangla on Saturday.
In the press conference, Shakib said that there is no separate goal, they want to progress match by match. For now, not the World Cup, only thinking about the Asia Cup. How was the preparation? To such a question, Shakib said, "Everyone has prepared very well." Abadat's injury is a bit of a setback. Because he is an important bowler in our team. Still, with the kind of preparation and the squad, I think we can go far. We want to progress one match at a time.
Bangladesh played the final three times in the Asia Cup before but could not win the title even once. Last season did not win a single match in T20 format. This is the Asia Cup in ODI format. How can the team?
Shakib does not think that doing well or doing badly in the Asia Cup will end everything. Shakib's mantra to perform from Nirvar as usual.
The Tiger captain said, "All our plans and preparations are now about the Asia Cup. In short, Afghanistan and Sri Lanka match (group stage). We want to move forward match by match.
If you can do well in the Asia Cup, will it give you more confidence in the World Cup? Shakib's reply, 'It is not that if we do badly in the Asia Cup, all hope will end or if we do well, we will do much better in the World Cup. But the Asia Cup is definitely important. We think so.
Tarun Shakib was the captain of Bangladesh in ODI World Cup in 2011. Now he is very mature, he has also grown in age. What is the difference between that captain Shakib and this captain and how does the Tiger captain think the team can do in the World Cup this time?
Shakib is optimistic about the team. He said, "This team is better than last time. To win big tournaments, you have to think about every match. We will think match by match.