Sports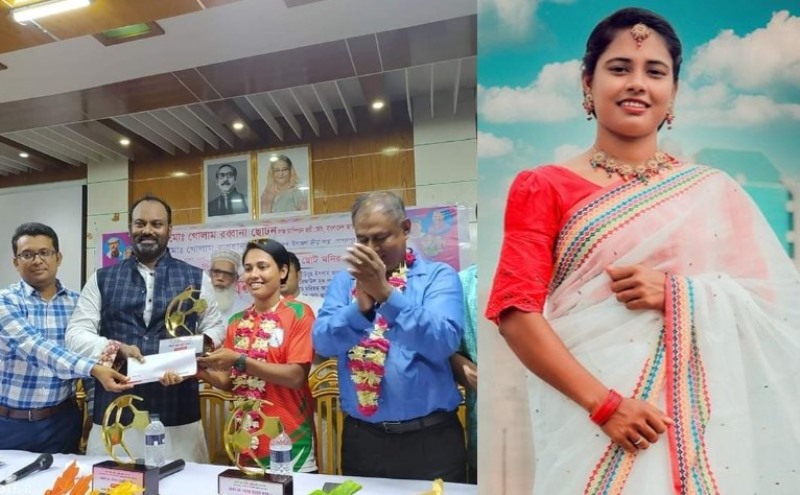 Photo: Collected
Footballer Krishna Rani Sarkar enjoying Durga Puja
Sports Correspondent, Dhaka, Oct 3: Time is passing like a dream for Krishna Rani Sarkar. Just a few days ago she won the title of SAFF Football. She netted two valuable goals in the final. She has been welcomed several times from the national level to the local level after returning to the country. All in all, the SAFF-winning star is now spending her time happily in her own area, Tangail. Autumn Durga Puja has multiplied her joy.
Autumn Durga Puja, the main religious festival of Hindus, is being celebrated across the country. Krishna celebrated the day of Mahasaptami in a Bengali dress wearing a saree. The star striker congratulated the fans by posting the picture on her verified Facebook page.
In the caption of the photo, she wrote, "Happy Maha Saptami to all. May everyone have a good puja, stay healthy and rejoice in this great festival of ours."
After receiving several felicitations from the national level, Krishna received a felicitation in his own district, Tangail. Among so many receptions and money awards, the star striker calls the reception of her area the best. She thanked the people of her district in another Facebook post on Sunday.
She said, "Since coming to the country, I have been receiving one reception after another. But the reception on Saturday was one of the best days of my life. I received greetings from my own district Tangail and my own Upazila Gopalpur and received many greetings from different places. I never imagined that everyone would give so much love. I am truly overwhelmed and grateful for everyone's love."
District administration and district sports organization felicitated striker Krishna Rani Sarkar and coach Golam Rabbani Choton at Tangail Stadium on Saturday. On the occasion, the district sports organization and the district administration presented a gift of Tk 2 lakh to Krishna and Tk 1 lakh to coach Choton. Apart from this, they also received monetary awards from the District Superintendent of Police and Tangail-5 Constituency Member of Parliament.