Sports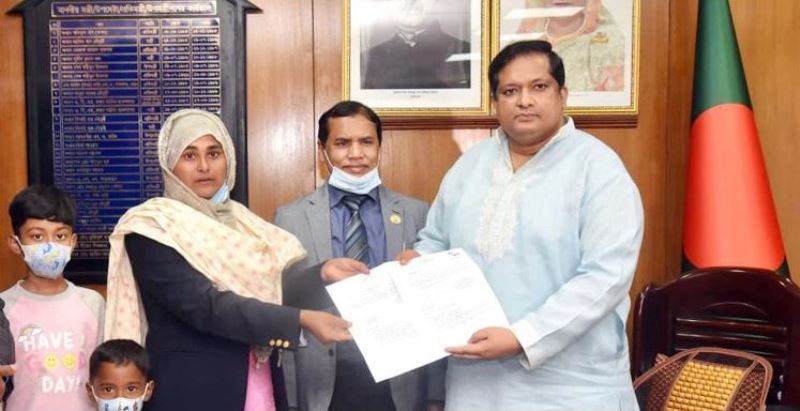 Collected
Gold medallist Shammi Akhtar receives Tk 25 lakh, apartment from PM Sheikh Hasina
Dhaka, February 19: Prime Minister Sheikh Hasina has given a flat and Tk 25 lakh to Shammi Akhtar, a gold medalist in taekwondo at the 11th South Asian (SA) Games.
After the death of her husband, the athlete was living a helpless life with her children. State Minister for Sports Zahid Ahsan Russell caled Shammi Akhtar to his office for a detailed inquiry and informed Prime Minister Sheikh Hasina of her plight.
State Minister for Youth and Sports Md Zahid Ahsan Russell handed over the keys of the flat given by the Prime Minister and a check of Tk 25 lakh to Shammi Akhtar at the Secretariat on Thursday afternoon. Youth and Sports Secretary Md. Akhter Hossain was present at the time.
Accepting the keys to the flat and a check for Tk 25 lakh, Shammi Akhtar said, "I am forever grateful to Hon'ble Prime Minister Sheikh Hasina. She has given me a shelter. She gave me twenty five lakh rupees and a flat. This is the best achievement of my life. I sincerely thank the Hon'ble Minister of State for Youth and Sports for his overall cooperation."
Expressing gratitude to the Hon'ble Prime Minister, the State Minister for Youth and Sports said, "Sports-friendly Prime Minister Sheikh Hasina has always stood by our players in their happiness and sorrow. She is the real guardian of the sports. We have cooperated with the players to the best of our ability. Hopefully, this support will continue in the future as well."