Sports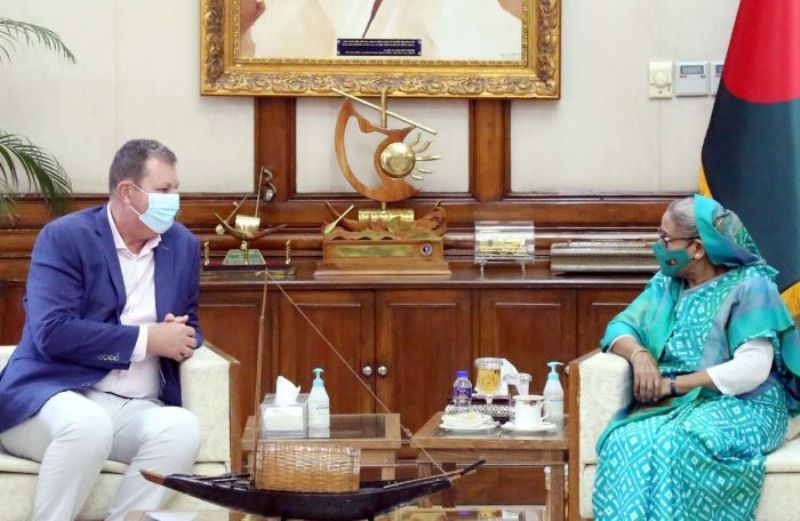 Photo: PID
ICC assures necessary support for the development of Bangladesh cricket
Own Correspondent, Dhaka, May 24: International Cricket Council (ICC) Chairman Greg Barclay has assured Bangladesh of all necessary assistance for the further development of cricket.
In a courtesy call on Prime Minister Sheikh Hasina at her official residence Ganobhaban on Monday morning, Barclay said, "The ICC will provide all possible assistance to take Bangladesh cricket further."
In reply, Sheikh Hasina said, "Bangladesh cricket will go further with the full support of ICC."
The Prime Minister told the ICC Chairman that her entire family is a sports fan. Because, her grandfather, father and brothers were players and sports organizers.
After the meeting, Assistant Press Secretary to the Prime Minister MM Imrul Kayes briefed the media.
The ICC Chairman lauded the outstanding performance of both the Bangladesh men's and women's cricket teams in the last seven years. He said the performance of the Bangladesh cricket team over the last seven years has inspired him to visit Bangladesh so that he can directly witness the development of Bangladesh cricket.
Mentioning that for the first time in ICC Women's Cricket World Cup, Bangladesh women's cricket team defeated Pakistan by nine runs and Bangladesh won the World Cup, he said that ICC will also provide all necessary support for the development of women's cricket. "We will help Bangladesh in coaching, umpiring and developing wickets or pitches," he added.
Bangladesh Cricket Board President Nazmul Hasan Papon MP and Senior Secretary to the Prime Minister's Office Md. Tofazzal Hossain Mia were present on the occasion.
The ICC chairman and a former administrator of New Zealand cricket, Greg Barclay, arrived in Dhaka on Sunday on a two-day visit.
Barclay was elected independent chairman of the ICC on November 24, 2020. Arriving in the capital, he inspected the construction work of Sheikh Hasina International Cricket Stadium in Purbachal.