Sports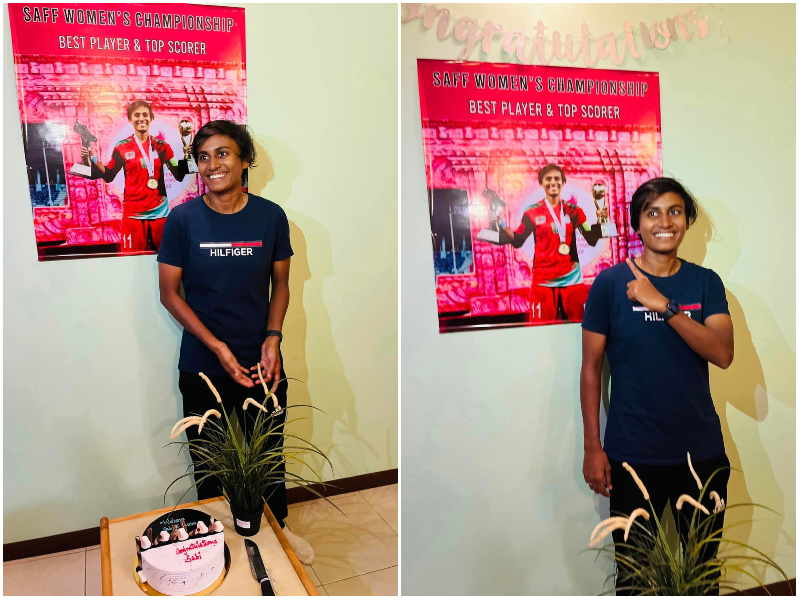 Photo: Collected
Maldivian club welcomes footballer Sabina Khatun
Sports Correspondent, Dhaka, Oct 1: Bangladesh women's football team captain Sabina Khatun has gone to play domestic league football in the Maldives for the fifth time. Dhivehi Sifainge Club welcomed her by cutting a cake. Sabina uploaded that picture on her Facebook page.
The Bangladesh captain was selected as the highest scorer and best player of the recently concluded SAFF Championship.
Dhivehi Club arranged a cake to congratulate Sabina by making a backdrop with the pictures taken by those two awards. Sabina wrote, "Thank you to my teammates and club officials for the warm welcome."
Like last year, Sabina's companion is Matsushima Sumaiya, a Bangladeshi footballer who was born in Japan. In domestic football of the country, these two footballers of Bashundhara Kings will play in the Maldives in Dhivehi Sifainge Club. It is primarily a club of the Maldives Defence Force. Sabina has played three times before in this club.
Sabina made her first Maldivian domestic football appearance in 2015 for the country's Defence Force. The next year she went to play at Dhibehi Seafaring Club. Sabina Khatun created a stir by scoring 31 goals in four matches. Apart from the Maldives, Sabina Khatun has also played domestic football in India. In 2018, playing in Sethu FC, she scored 6 goals in seven matches, this female footballer, is known as the goal machine of South Asia.