Sports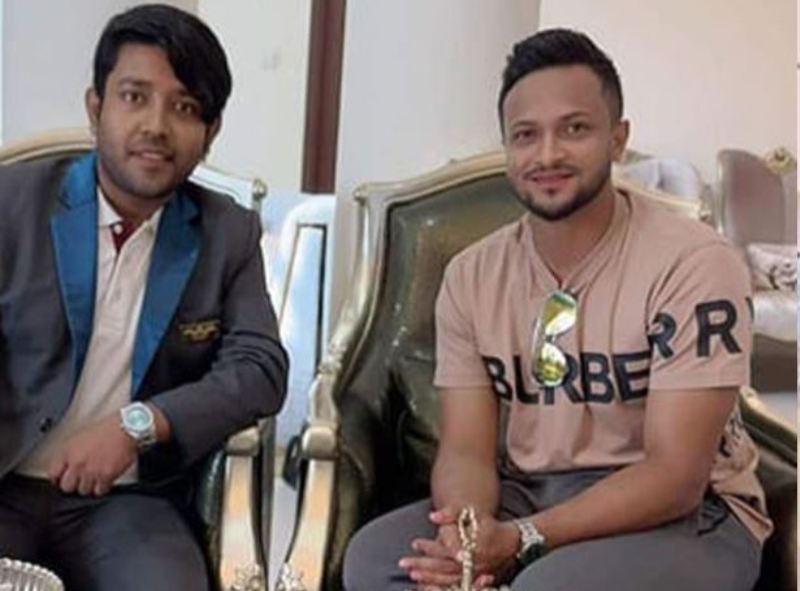 Collected
New controversy as Shakib Al Hasan goes to Dubai
Dhaka, March 16: The most sensational news in the country is that cricket star Shakib Al Hasan went to Dubai to inaugurate the shop of the accused in the police murder case. After every few days, he gets involved in a fresh controversy.
At the same time, the country's popular YouTuber Ashraful Alom aka Hero Alom graced the stage by attending the opening ceremony of the gold shop in Dubai.
Arav Khan, the owner of the gold shop, is an absconding accused in the murder case of a police inspector. National cricket team captain Shakib Al Hasan went to Dubai to attend the opening ceremony of Arav Khan's gold shop. He was warned by the police but ignored. The police administration is not looking at the matter well. Detective Chief Inspector Harun Ur Rashid has warned that Shakib and Hero Alom will be interrogated in this regard.
According to police sources, in 2018 Mamun Imran Khan (34), Inspector of School of Intelligence of Special Branch (SB) of Police, was killed and his body was burnt. Accused number six in that murder case is Arav Khan.
Arav lured a young man named Abu Yusuf Liman with the opportunity to play in BKSP to escape the sentence of murder case. Under this temptation Limon surrendered instead of Arav in the court. The court later sent Limon to prison. In this gap, Arav left the country with the help of a senior government official and left the country for Dubai. Later, when this matter was known, Limon was acquitted by the court.
Hero Alom sang in the regional language of his district Bogra on the occasion. He graced the stage by singing a song titled 'Bogurar Pola Hero Alom'. Earlier, Bangladesh national team cricketer Shakib Al Hasan attended the opening ceremony of Arav Jewellers. But he left within 10 minutes without getting on the stage.
Accused Arav Khan lived in Fartabad area of Rajpur-Sonarpur municipality under South 24 Parganas district of West Bengal before going to Dubai. He lived in a slum near the Uday Sangh Club in Fartabad area for five-six years hiding his real identity.
Arav and his wife Sajema Nasreen used to rent a house for Rs 2,000 per month on the second floor of Zakir Khan's dilapidated house. From there, Arav created a fake Indian passport and fled to Dubai. Since then, Arav Khan has been staying in Dubai for the past few years.