Sports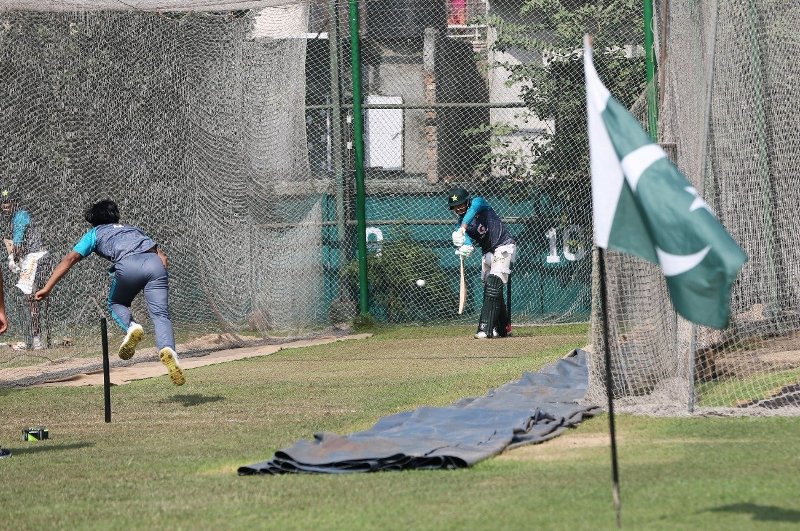 twitter.com/TheRealPCB
Pakistan team hoist national flag during practice session in Dhaka, court controversy
Dhaka, November 18: The Pakistan Cricket Team love to court controversy whenever they find time. After enthralling fans and silencing critics worldwide with a fearless brand of cricket in the recently concluded ICC T20 World Cup in the Middle East, Babar Azam and his men have grabbed the headlines yet again, for their off the field behaviour, something that has diplomatic ramifications.
Following their exit from the semi finals of the said tournament, the team landed in Bangladesh, to take part in bilateral T20I and Test series.
Everything was going smooth and there was a buzz to see the top players in action against a home side who had been mauled at the competition by other teams, much to the shock of their fans, who expected a semifinal finish, at least. However, It was a picture posted by the Pakistan Cricket Board of the visiting team's practice session that grabbed eyeballs and raised several eyebrows. The image showed a Pakistani flag being unfurled and hoisted while players practiced.
It is not customary for players and management staff of visiting teams to hoist their national flags in other countries and for Pakistan to do it in Bangladesh is nothing less than a sacrilege.
For the uninitiated, Bangladesh, the erstwhile East Pakistan, paid in blood to gain freedom from Islamabad. What is even worse is the nine-month massacre that saw millions of Bengalis being killed and thousands of women being raped and brutalised by Pakistani soldiers- an act the latter is yet to recognise and ask an apology for.
While Bangladesh has been on a perpetual lookout for an official acceptance and apology from Islamabad, none has been forthcoming.
The year 2021 also marks Bangladesh's 50th anniversary of independence. For the Pakistani team, which has been notorious for mixing politics and cricket in the past too- complaining to the International Cricket Council about Indian cricketer Mahendra Singh Dhoni's wicket keeping gloves, that bore an Indian Army insignia, and successfully making him change it- this looks deliberate. An attempt to make a political statement, especially when the stage is set for a big event marking the 50th year of independence and the centenary year of Bangabandhu Sheikh Mujibur Rahman, a man Pakistan would love to hate, for he single handedly took away East Pakistan from them and successfully managed to turn it into Bangladesh.
Unsurprisingly, the move has been criticised by many in Bangladesh, including State Minister for Information and Broadcasting Dr Murad Hasan. "Pakistan cricketers hoist their national flag (moon, stars) during practice. This is not acceptable under any circumstances. I can't support it in any way," the lawmaker said.
"Father of the Nation Bangabandhu Sheikh Mujibur Rahman's daughter and Prime Minister Sheikh Hasina has taken Bangladesh cricket to a new high through various initiatives. Pakistan team's practice hoisting national flag in Dhaka is a great blow to our national spirit at a time when Bangladesh is celebrating golden jubilee of its independence from Pakistan and Mujib Borsho marking birth centenary of Bangabandhu," he added.
Many have also demanded Bangladesh cancel their series against the visitors, unless the latter tender an apology.
The Pakistani management, however, has given an explanation. Team manager Ibrahim Badizi has said that the norm of hoisting the national flag during practice session was started by coach Shaqlain Mustaq a few months ago, to bolster the team spirit.
Even if taken at face value, the move is nothing but sinister. If Pakistan had to unfurl its national flag, they should have obtained the permission first, but they overlooked it, quite intentionally, and proceeded to make a political statement which is surely going to loosen the Dhaka-Islamabad diplomatic ties.
Meanwhile, the T20I matches, to be played in Mirpur, will be on November 19, November 20 and 22.
The first Test between the two teams will be played from November 26 to 30 at the Zahur Ahmed Chowdhury Stadium in Chittagong. The second Test will be played at the Sher-e-Bangla National Cricket Stadium in Mirpur from December 4 to 8. With this series, Bangladesh will start their journey of the second edition of the Test Championship.