Sports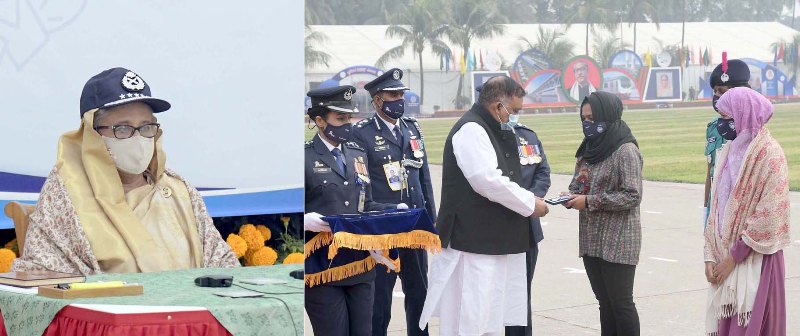 PID
Police week starts, Sheikh Hasina urges cops to protect democracy
Dhaka, January 23, 2022: Prime Minister Sheikh Hasina has inaugurated 'Police Week-2022' through annual police parade at Rajarbagh Police Lines ground under the theme 'Skilled Police, Prosperous Country, Bangabandhu's Bangladesh'.
She received an orderly salute from the various contingents and flag bearers of the police from virtually present at the parade.
In his inaugural address at the inaugural Police Week 2022 on Sunday morning, the Prime Minister called upon the police personnel to work for maintaining law and order in the country as well as maintaining independence and upholding democracy.
"Remember the long struggle of the father of the nation for 24 years and the victory of the war of liberation, which brought us this freedom," she said.
Freedom gained in exchange for the blood of your predecessors must be protected from all injuries, she said.
The Prime Minister was virtually connected to the Police Week celebrations at Rajbarbagh Police Lines via video conference from Ganobhaban.
"I believe that every member of the police will perform his duties with professionalism to maintain internal peace and stability in the country and keep democracy alive through people-friendly policing," she said. Above all, the Police Week celebrations will inspire the Bangladesh Police to work with renewed vigor to develop a culture of peace, this is my expectation.
The Prime Minister also called upon the police personnel to move forward keeping the tradition of their predecessors, quoting the speech of the Father of the Nation.
Speaking at the first Police Week celebrations in Rajarbagh on January 15, 1975, the Father of the Nation said, "We must remember those who were martyred in this Rajarbagh. They are your brothers, don't let their blood go to waste. '
Recalling the destructive activities of the BNP, the Prime Minister said that they had carried out various acts of arson, deforestation, deforestation and even attacked the police.
In the morning, Home Minister Asaduzzaman Khan Kamal visited the parade on the instructions of the Prime Minister.
On the occasion of Police Week, medals will be given to a total of 230 police personnel including 115 in 2020 and 115 in 2021. Medals include Bangladesh Police Medal (BPM), Bangladesh Police Medal (BPM) -Service, Presidential Police Medal (PPM), Presidential Police Medal (PPM) -Service.