Sports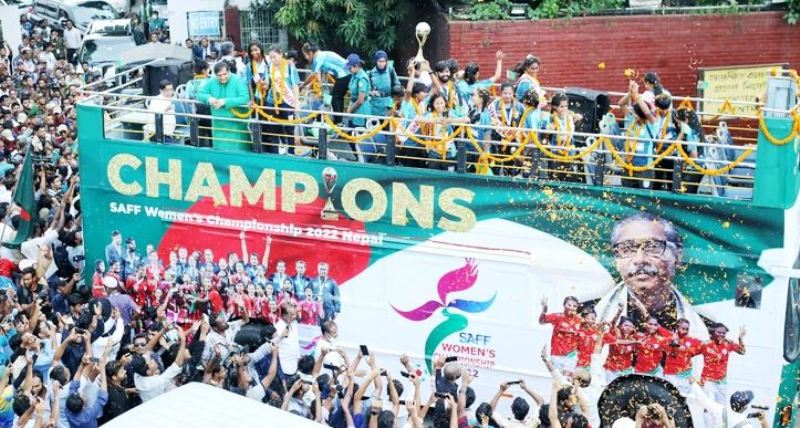 Collected
RAB to probe theft of dollars of female footballers Krishna and Shamsunnahar
Dhaka, September 22: Although no complaint has been received regarding the theft of dollars of two members of SAFF winning women's football team, Krishna Rani Sarkar and Shamsunnahar Sr., the intelligence agency in charge of security at the airport, multiple units of Dhaka Metropolitan Police, APBN and Rapid Action Battalion (RAB) have started an investigation.
It is known that someone broke the lock of Krishna's luggage and stole 900 US dollars and Tk 50 thousand. On the other hand, 400 USD was stolen from Shamsunnahar's luggage.
In this regard, Deputy Commissioner of Police (DC) of Uttara Division of DMP Mohammad Morshed Alam said that no written or verbal complaint has been received so far in the theft incident. However, we are monitoring the footage of multiple CCTV cameras in the airport area. Additional Superintendent of Police of the Armed Police Battalion (APBN) in charge of the airport Mohammad Ziaul Haque Palash said, "We are investigating the matter spontaneously after receiving the news."
Director of RAB's Legal and Media Wing, Commander Khandaker Al Moin, said the women's football team returned home on Wednesday (September 21) after completing the mission in Nepal. The theft of money of a member of the winning team immediately after her return is sad and shocking. In the meantime, RAB has increased intelligence surveillance to find those involved in this incident and bring them under the law. Besides, multiple CCTV footages of the airport and its surrounding areas are being reviewed. The theft came to the attention of the footballers after the luggage arrived at the BFF building on Wednesday night.
Meanwhile, on Thursday afternoon, Hazrat Shahjalal International Airport Executive Director Group Captain Mohammad Kamrul Islam said that the incident of theft of money and luggage of two players of SAFF Champion women's football team did not happen at Shahjalal International Airport.
He said, on Wednesday, Bangladesh Football Federation (BFF) official Imran was handed over all the luggage intact. After analyzing the footage from five cameras, there was no evidence of luggage break-ins, thefts.