Sports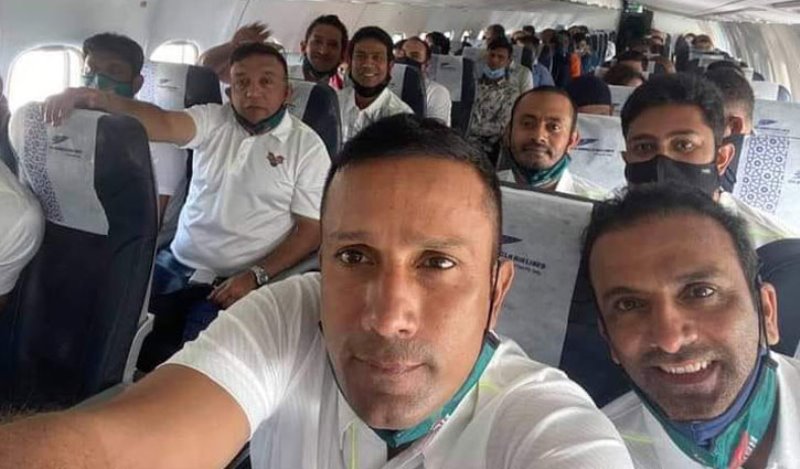 Collected
Retired cricketers travel to India to take part in T20 competition
Dhaka, February 27: India will host an international tournament to raise awareness about road safety. The tournament is going to be held with the participation of those who have made a name for themselves in international cricket. Five more teams including Bangladesh are participating there. Retired players of these six country will play in this competition.
Abdur Razzak and Nafis Iqbal, who recently retired from Bangladesh, are also present. Besides, former star cricketers Khaled Mahmood Sujan, Mohammad Rafique, Rajin Sahel and Aftab Ahmed will also play.
Mohammad Sharif is also with the team. Although he has not announced his retirement, his chances of returning to competitive cricket are slim. The cricketers flew to India on Saturday morning to take part in the competition.
All the matches of the tournament will be played at the Shaheed Bir Singh Stadium in Raipur, India. Hosts India Legends and Bangladesh Legends will meet on the opening day on March 5 at 7:30 pm Bangladesh time.
There will be two semi-finals on March 17 and 18. The final will be on March 21.
Apart from Bangladesh, the other five teams participating in the tournament are England, India, South Africa, Sri Lanka and West Indies.
Sachin Tendulkar, Virender Sehwag, Yuvraj Singh and Zaheer Khan will play for India.
Brian Charles Lara, Tino Best, Jacobs will be seen in the West Indies jersey.
Kevin Pietersen and Matthew Hoggard will play for England.
Bangladesh Legends Squad: Khaled Mahmud Sujan, Mohammad Sharif, Mushfiqur Rahman Babu, ANM Mamun Ur Rashid, Nafis Iqbal, Mohammad Rafiq, Abdur Razzak, Khaled Masud Pilot, Hannan Sarkar, Javed Omar Belim, Rajin Saleh, Mehrab Hossain, Aftab Ahmed And Alamgir Kabir.