Sports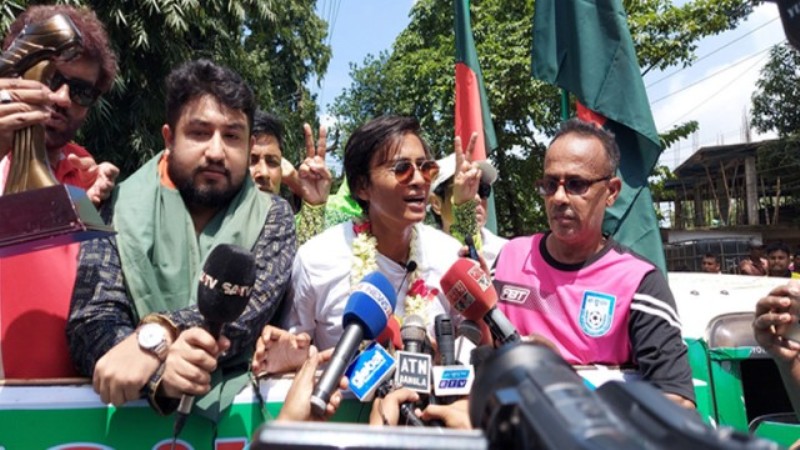 Collected
Sabina accorded warm welcome in her hometown Satkhira after SAFF win
Dhaka, September 23: For the first time in the history, the Bangladesh football team has achieved the excellence of women's football in South Asia. Since then captain Sabina Khatun and other players have been showered with praise. Sabina stepped into Satkhira for the first time after their SAAF win and received a warm welcome on arrival.
The reception was organized by Satkhira District Sports Association. On Friday (September 22) at 11:30 a.m., a reception was given by the district sports organization and various organizations at Satkhira Circuit House. After the reception, Sabina Khatun participated in an hour-long procession in Satkhira town. Sabina was brought home after the whole city tour.
After the reception, Sabina said, "I could never have imagined that the people of Satkhira would welcome me like this. I am overwhelmed to see so many arrangements for me."
Expressing her gratitude to the people of Satkhira, she said, "I am grateful to the people of Satkhira. Such success took the country one step further in the world."
Another successful footballer of Satkhira, Masura Khatun, however, has not set foot in her district yet. Upon her arrival, she will also be welcomed. Besides, Sabina and Masura will be welcomed by the Deputy Commissioner.
Later, she rode around the city in a pick-up of Satkhira Sports Association with the golden boot and the trophy of the most valuable player. Meanwhile, the people of the district greeted her by shaking hands. Before this, Sabina Khatun came to Sabuj Bagh house in Satkhira from Dhaka early in the morning. Later she spoke to the journalists.
Meanwhile, Sabina Khatun said that a girl has to struggle a lot to get established in sports. No one in their own family accepts that girls play football. However, with the indomitable spirit and the encouragement of the late Akbar Ali, the local coach, she reached this stage.