Sports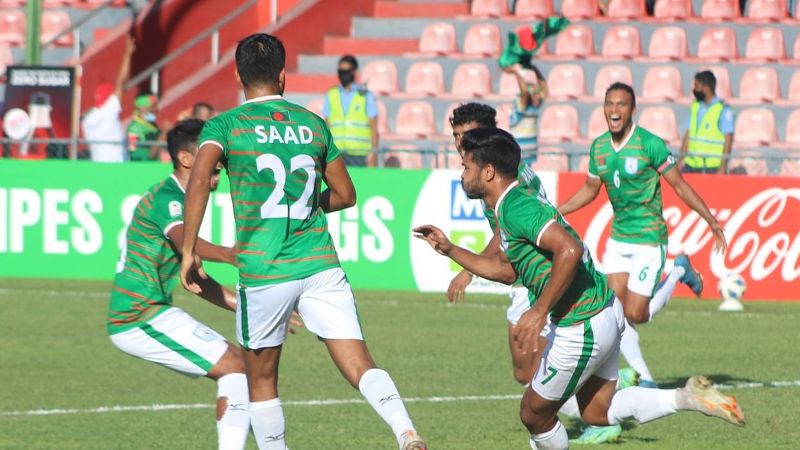 Collected
SAFF: Bangladesh misses final berth after controversial penalty goal during Nepal fixture
Dhaka, October 14: In a heartbreak for the Bangladesh football team and its fans, the team lost a place in the SAFF Championship final after ending the match 1-1 against Nepal at the Male stadium on Wednesday. Nepal, trailing for 86 minutes, staged a comeback, following a controversial penalty chance, which they converted into a goal.
In the 87th minute, a whistle from the Uzbek referee's penalty shattered Bangladesh's dream. The Nepalese forward fell into the box. The referee of signalled a penalty. Besides, he gave a yellow card to defender Bishwanath Ghosh. Nepal's Anjan Bista scored from the penalty spot to make the scoreline 1-1.
Bangladesh's dream of playing in the final after 16 years also came to an end with this. With the last whistle of the referee, Male Stadium became a tragedy in Bangladesh. The supporters of Bangladesh in the gallery also stood still. The Bangladeshi journalists in the press box are also silent.
Everything was fine until 6 minutes of the match. Bangladesh was walking towards the final. Goalkeeper Anisur Rahman Zico, who played great throughout the match, forgot one and the whole team was in extreme danger. Goalkeeper Zico went ahead to clear the ball outside the box. Unfortunately, he touched the ball with his hand while clearing. Seeing it the referee shows a red card. Bangladesh played with ten players for the rest of the match.
After Zico's red card, Coach Oscar quickly made a few changes. Biplu was replaced by senior goalkeeper Ashraful Islam Rana. Forward Sumon Raza was replaced by defensive midfielder Atiqur Rahman Fahad. Rana made a flying save shortly after entering the field. The experienced goalkeeper jumped in the right direction during the penalty shot but could not save. Bangladesh did not win with ten. As a result, Nepal reached the final for the first time in the history of SAFF with seven points from four matches. And Bangladesh left the group stage again with four points.
Bangladesh has never played a final since 2005. The last time they lost to Nepal at home, they exited from the group stage.