Sports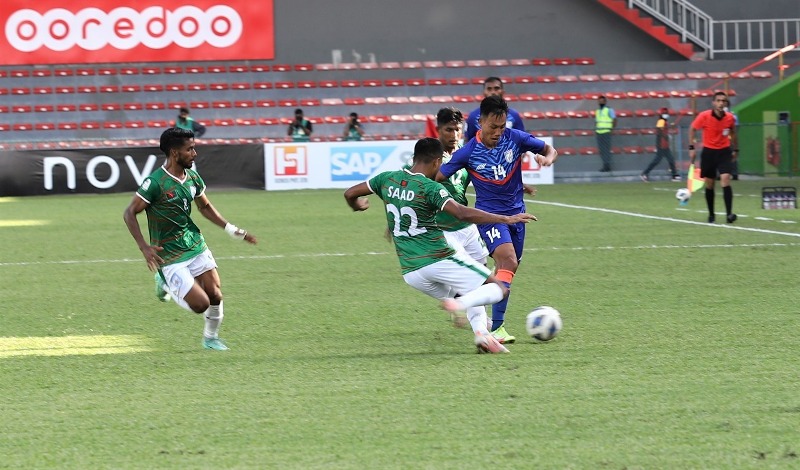 twitter.com/IndianFootball
SAFF Championship: 10-men Bangladesh hold India for 1-1 draw
Dhaka, October 5: After a 1-0 win against Sri Lanka in the opening match of SAFF Championship, Bangladesh managed a point in the next fixture. Against India, Jamal Bhuyan and his managed a 1-1 draw on Monday.
India took the lead with a Sunil Chhetri goal, but Bangladesh managed to equalise with Yeasin Arafat scoring at the 74th minute.
Sunil Chhetri scored in the 27th minute of the match with assist from Udanta Singh. Bangladesh got a chance to equalize in the first half. But it could not be used. An easy opportunity was also missed in the second half. However, in the 74th minute, after Rakib's header from Jamal Bhuiyan's corner, Yasin's second header gave Bangladesh an equalizer.
Bishwanath Ghosh left the field after seeing a red card in the 54th minute of the match. As a result, the last 40 minutes, including four extra minutes, Bangladesh played with one less player. However, the Bangladeshi players did not give up.
Bangladesh will face the host Maldives in the third match next Thursday (October 7). The last match of the first round is on October 13, against Nepal.
India dominated at the Maldives' national football stadium throughout the first half. They were in control for at least 65 percent of the time in the fight for possession. During this time they made four shots along the target. Where Bangladesh had only one on-target shot.