Sports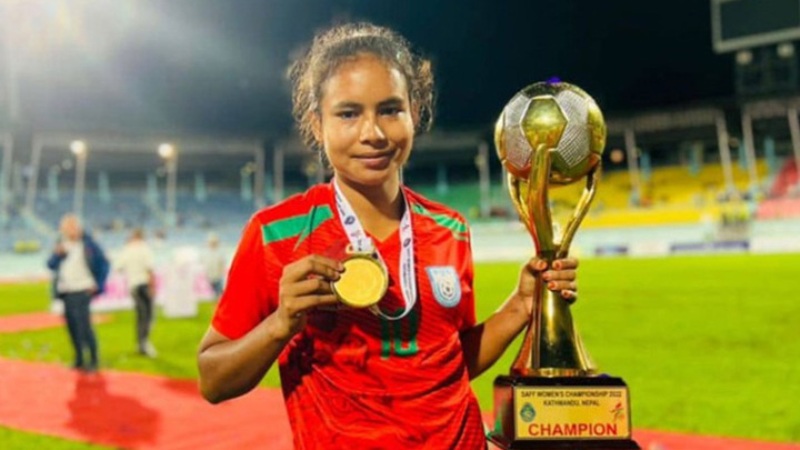 Collected
SAFF cup winner Swapna bids farewell to football
Dhaka, May 26: Last year, Bangladesh women's football team became the clear champion of the tournament of excellence in South Asia after defeating the hosts on the soil of Nepal. Sirat Jahan Swapna is one of the members of that winning team. This forward of the national team left the camp in BFF and went to her district Rangpur on Thursday. Although her national team mates were in the camp, she is said to have left the camp out of boredom and anger.
Football is the cause of Sapna's depression. Women footballers are yet to play a match after being crowned champions last September. BFF failed to organize two rounds of friendly matches. Not sent to play in Olympic qualifiers in Myanmar. Many had offers to play abroad. The proposal for a women's franchise league was also not reciprocated. There is also uncertainty about when the women's franchise league will be held. It is said that Swapna was disappointed with everything.
Because of this depression, Swapna has announced to move away from football on social media. However, the fact that Swapna is leaving football is not known to the coaching staff and BFF. National team head coach Golam Rabbani Choton and assistant coach Mahbubur Rahman Leetu both said about Sapna leaving the camp, 'Sapna was feeling bad for some days. She wanted to go home, so we asked him to spend 4-5 days at home and return to the camp. However, Swapna could not be contacted.
Earlier, two members of the SAFF Champions team have announced their retirement from football. They were, however, left out of BFF's camp for performance. They announced their retirement thinking that if they can't stay in the national team camp, they have no chance to do anything in football.
But Swapna's case was different. She left because she is disappointed that she did not get a chance to play even in the camp. According to various sources, like Swapna, many members of the SAFF Champion team have the same problem. They could not play a single match within eight months of becoming champions. There is no guarantee when they will play again.