Sports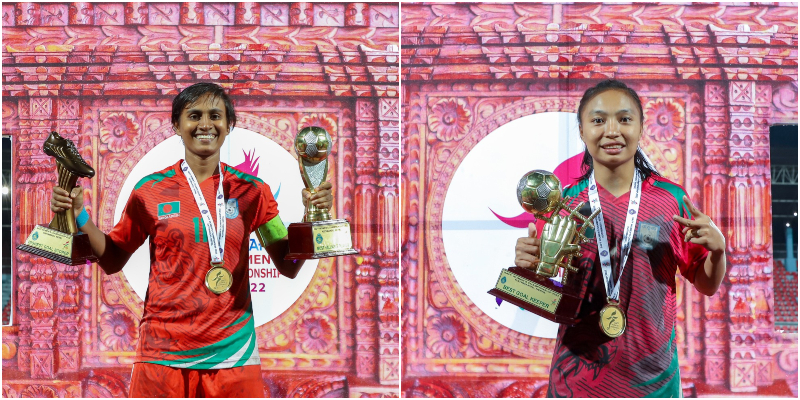 Photo: Collected
SAFF Women's Championship: Bangladesh players take all awards
Sports Correspondent, Kathmandu, Sept 20: The sixth SAFF Women's Championship was of Bangladesh from all sides. Bangladesh became the champion for the first time after defeating Nepal 3-1 in the final of the tournament held in Nepal's capital Kathmandu on Monday.
The girls of Bangladesh got all the prizes in this tournament. Besides winning the Champions Trophy, Bangladesh also won the Fair Play Trophy. Apart from these, Bangladesh captain Sabina Khatun was awarded the best player of the tournament. She also won the top scorer award by scoring 8 goals in the tournament.
Rupna Chakma of Bangladesh became the best goalkeeper of the tournament. The goal scored by Nepal to reduce the gap in the final was the first and only goal scored by any team against Bangladesh in the championship. Bangladesh conceded only one goal in five matches. On the other hand, Bangladeshi girls scored 23 goals in the entire tournament.
Results of Bangladesh's five matches in the tournament: 3-0 against Maldives; 6-0 against Pakistan; 3-0 against India; 8-0 against Bhutan; 3-1 against Nepal.