Sports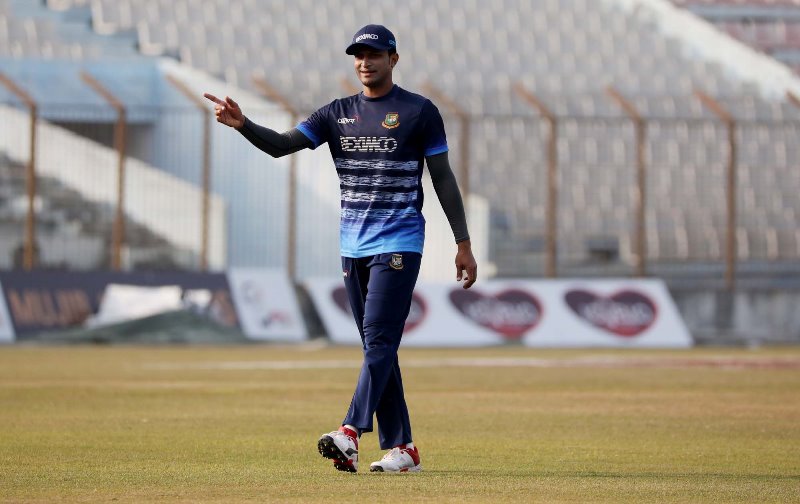 twitter.com/BCBtigers
Shakib Al Hasan has the right to decide if he wants to attend Kalipuja or pray at the mosque: High Court
Dhaka, March 9: The High Court has expressed outrage over the death threat against world-class crickter all-rounder Shakib Al Hasan for attending the Kali Puja in Kolkata. The court said that whether the world-class cricketer goes to Kali Puja or to the mosque is a personal matter. No one can threaten to kill him.
A virtual High Court bench comprising Justice Jahangir Hossain Selim and Justice Md Badruzzaman made the remarks while hearing the bail plea of ​​the accused in the case of Shakib's murder on Tuesday (March 9).
Deputy Attorney General Dr Mohammad Bashir Ullah was present for the state hearing in the court.
At the same time, the High Court has issued a rule asking why the accused Mohsin Talukder will not be granted bail in the case filed against him for threatening to kill world-class all-rounder cricketer Shakib Al Hasan. Defendants in the case have been asked to respond to this rule.
Earlier, on November 16, 2020, at 12:07 am, a young man named Mohsin Talukder threatened to kill Shakib by showing him a machete on social media Facebook, during a live session.
The cricket star was threatened for going to Kolkata and inaugurating the Kali Puja. Talukdar was later arrested on November 17.
The intimidator Mohsin Talukder is the son of Azad Baksh of Talukdar Para village in Tukerbazar union of Sylhet Sadar upazila.
In addition to threatening to kill Shakib Al Hasan on Facebook Live, Mohsin asked him to follow Pakistani cricketers. He also abused Shakib Al Hasan for an episode the cricketer endured during while clicking selfies with his fans. However, Mohsin Talukder came back live on the morning of November 16 and expressed his regret for the words of the previous live.
Incidentally, Shakib Al Hasan went to Kolkata on November 12 for a Kali Puja ceremony.
He was only present at the 59th Shyama Puja of 'Amara Sabai Club' in Kankurgachhi, East Kolkata, but did not inaugurate the puja, organizers said. Also present on the occasion were West Bengal Minister for Urban Development Firhad Hakim, Paresh Pal, Chief Patron of 'Amara Sabai Club' and Trinamool Congress MLA, Acharya Mural Bhai of Dakshineswar Adyapith, Tawfiq Hasan, Deputy Chief of Mission at Bangladesh Deputy High Commission in Kolkata, Jamul Hossain .