Sports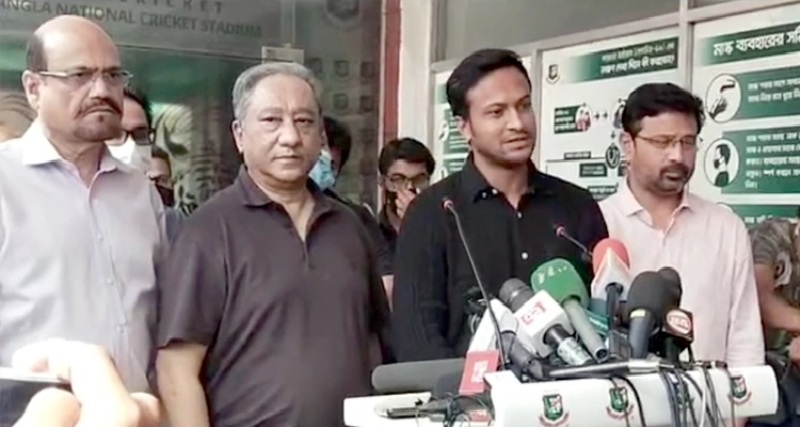 Collected
Shakib Al Hasan to travel to South Africa
Dhaka, March 12: Bangladesh star all-rounder Shakib Al Hasan, who was rested from all forms of cricket till April 30, incluidng the tour to South Africa, due to mental depression, has said that he is ready travel to the Rainbow Nation. Despite being hesitant at the beginning, Shakib has now declared himself available for the tour of South Africa.
Shortly afterwards, board president Nazmul Hasan Papon announced that Shakib would catch a flight to South Africa tomorrow (Sunday) night. He made the decision in a private meeting with Papon after returning to the country from Dubai. Which was officially announced today. President Nazmul Hasan Papon, top director Ismail Haider Mallick, cricket operations committee chairman Jalal Yunus, media committee chairman Tanvir Ahmed and Shakib Al Hasan were present at the meeting at the BCB building around 1:00 pm on Saturday.
At the end of the meeting, Shakib said, "I talked to Papon Bhai the night before, I talked to him even today. Since I am in all three formats, I will always be available in all three formats. The board will decide when to rest. I am also available for the tour of South Africa."
But even if he is available, will he be seen in South Africa? Because BCB has given Shakib a rest for about 2 months. Shakib will go to South Africa instead of the decision to rest? Papon answered this question.
"Shakib is available in all the matches of the tour of South Africa," he said. He is going to South Africa tomorrow (Sunday) night. There is talk that OK (with rest) may be kept out of the team in a match. There is nothing wrong with that. "
The three-match ODI series against South Africa will start on March 18. The next two matches are on March 20 and 23, respectively. The first Test will start on March 31 in Durban. The second test will start from April 8. The Tigers are scheduled to return home on April 13 after a month-long tour.