Sports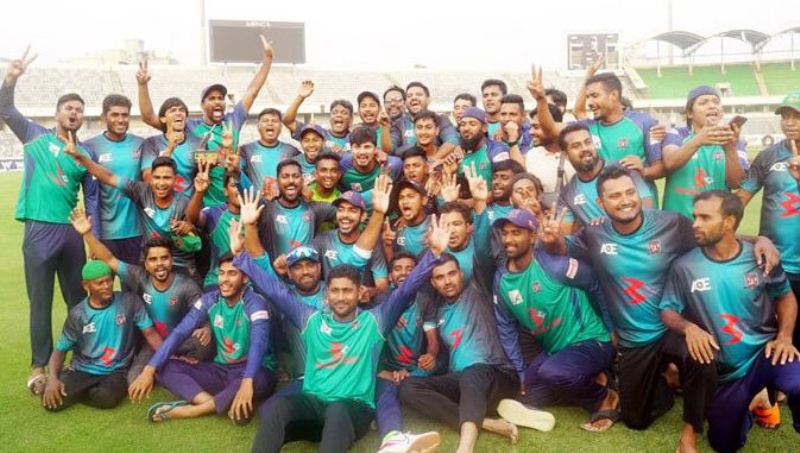 Collected
Sheikh Jamal defeat Abahani to clinch Premier League
Dhaka, April 28: Cricket is a game of uncertainty. That was proved once again in the Abahani-Sheikh Jamal match. When a team loses 5 wickets for 78 while chasing 230 runs, their chances of defeat are quite heavy. From there, it is possible to save only if someone can play a super human innings.
Kazi Nurul Hasan Sohan played that superhuman innings for Sheikh Jamal Dhanmondi Club. Playing an unbeaten 81 off 81 balls, Sheikh Jamal brought an incredible 4-wicket win over Abahani. Not only the victory, but also Sheikh Jamal Dhanmondi Club won the crown of this year's Premier Cricket League Championship. Now they don't have to wait for the last match. Imrul Kayes-led Sheikh Jamal Dhanmondi Club became the champion with one match in hand.
Imrul Kayes has won the Dhaka Premier Cricket League title by leading Sheikh Jamal Dhanmondi Club after winning the title as the captain of Comilla Victorians in BPL.
Sheikh Jamal Dhanmondi Club of Imrul Kayes scored 24 points in this victory against Abahani. Their closest rival is Legends of Rupganj. At the end of 14 rounds, their points are 20.
Sheikh Jamal and Legends of Rupganj face off in the last round. Even if the legends win that match, there will be no profit. Their points will be 22. So, with this victory of 4 wickets against Abahi, Sheikh Jamal Dhanmondi Club took the crown of the championship.
Abahani captain Mosaddek Hossain Saikat decided to bat after winning the toss at Sher-e-Bangla Cricket Stadium in Mirpur. However, after getting down to bat, Abahani fell in the face of Ziaur Rahman's cannon at the beginning.
When Sheikh Jamal lost 5 wickets for 78 runs, Kazi Nurul Hasan Sohan and Parvez Rasool turned around. The pair's 72-run partnership put Sheikh Jamal far ahead. Sheikh Jamal's 6th wicket fell for 150 runs.
Then Sohan crossed the rest of the way with Ziaur Rahman. The duo put up a pair of 82 runs. Sohan remained unbeaten on 81 off 81 balls with 8 boundaries and 2 sixes and Ziaur Rahman remained unbeaten on 39 off 26 balls. Nurul Hasan Sohan was adjudged the Man of the Match.