Sports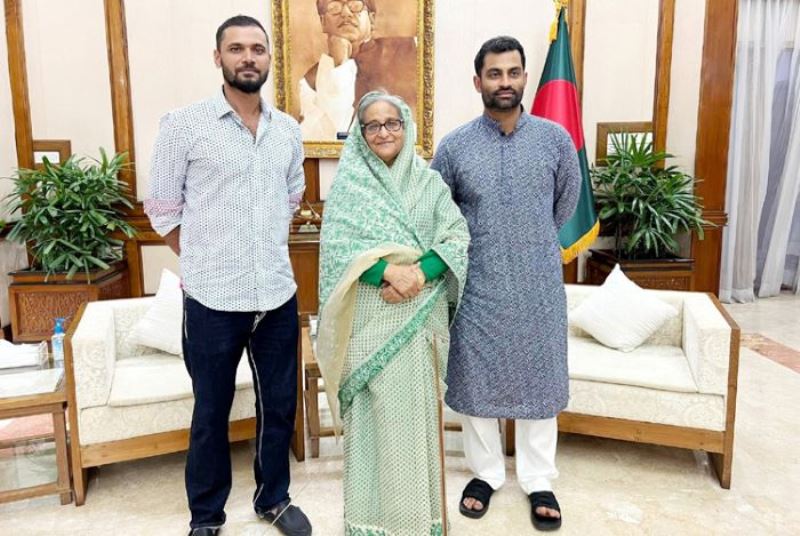 Photo: PID
Tamim breaks retirement, returns to international cricket after PM's intervention
Dhaka, July 8: Tamim Iqbal has withdrawn his retirement decision after meeting with Prime Minister Sheikh Hasina. But not in this series. For now, the country's best opener will be resting for one and a half months. Tamim will return to the team with the Asia Cup in August-September. He will also play in the ODI World Cup held in India in October-November.
Tamim announced his retirement from international cricket at a press conference in Chittagong on Thursday. However, it was understood that his decision was emotional and not well-thought-out, as he broke down in tears at the press conference. The entire nation was stunned by Tamim's tearful announcement. People from all walks of life requested Tamim to come back from retirement. In the meantime, the news spread in the night, Tamim has been called by the Prime Minister.
In the beginning, the matter seemed to be rumours, but the truth was actually found on Friday morning when Tamim arrived in Dhaka from Chittagong. In the afternoon, he met Prime Minister Sheikh Hasina at Ganabhaban. Along with Tamim, former captain of the national team and Member of Parliament Mashrafe Bin Mortuza and BCB President Nazmul Hasan Papon were also present at Ganabhaban. There they discussed with the Prime Minister. Finally came Tamim's retirement announcement. Tamim said that he will return at the request of the Prime Minister.
After leaving the Prime Minister's house, Tamim told the media, "I was invited by the Honorable Prime Minister to his house today at noon. We discussed with her for a long time. She instructed me to return to the game. I am withdrawing my retirement right now."
"Because I can say no to everyone, but it's impossible for me to say no to the biggest person in the country. Papon bhai and Mashrafe bhai had a big role in that. Mashrafe Bhai called me. Papon Bhai was with him. The Prime Minister has also given me a month and a half leave," he added.