Sports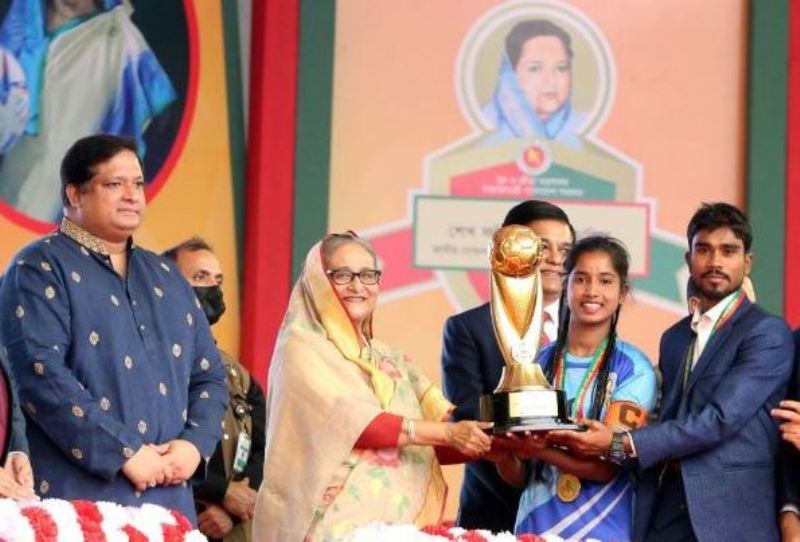 PID
The prime minister called for necessary preparations to play World Cup football in the future
Dhaka, December 31:Prime Minister Sheikh Hasina said her government is working to ensure sports for all. She urged the football players to prepare themselves in such a way that they can play the World Cup in future.
She said, "The World Cup football tournament ended a few days ago, however, Bangladesh could not qualify. I hope Bangladesh will play World Cup football in the future and you (footballers) should prepare yourselves accordingly."
The Prime Minister said this while distributing trophies and prizes among the runners-up and champions of Bangabandhu Sheikh Mujibur Rahman National Gold Cup Football Tournament Boys Under-17-2022 and Bangamata Sheikh Fazilatunnessa Mujib National Gold Cup Football Tournament Girls Under-17-2022 on Thursday. The Ministry of Youth and Sports organized the event at the Bangladesh Army Stadium in the capital.
Referring to the participation of 1 lakh 10 thousand 552 boys and girls from the upazila, district and national levels in the football tournament, Sheikh Hasina said, "This is a wonderful event. I think there is no other country in the world where such a large number of footballers have participated in such a tournament."
Referring to the Bangabandhu and Bangamata football tournament, the Prime Minister said that since coming to power for the second time in 2009, Trinamool has been organizing sports competitions at the primary school, high school, college and university levels to bring out talented people. He said they have even encouraged people with special needs to take up sports and have won many international awards.
Apart from constructing mini stadiums in every upazila and academies in every district, he said that stadiums have already been constructed in 56 districts.
The Prime Minister said they will establish BKSP in each category, which aims to provide proper training facilities to athletes of each sport, as, he believes, Bangladesh has the capability to compete on the world-class sporting stage. He said that swimming pools, shooting ranges, kabaddi and volleyball stadiums and sports complexes are being constructed across the country with the aim of bringing sports to the grass roots.
"We are making arrangements so that everyone can participate in sports everywhere," she said.